Welcome to Disc 2 of Sign O' the Times! Before I begin digging into this disc for the latest #PrinceTwitterThread, I just wanted to say thank you to @deejayumb & @EdgarKruize for spearheading the series & asking me to participate again. I am grateful & honored.
#SOTTDELUXE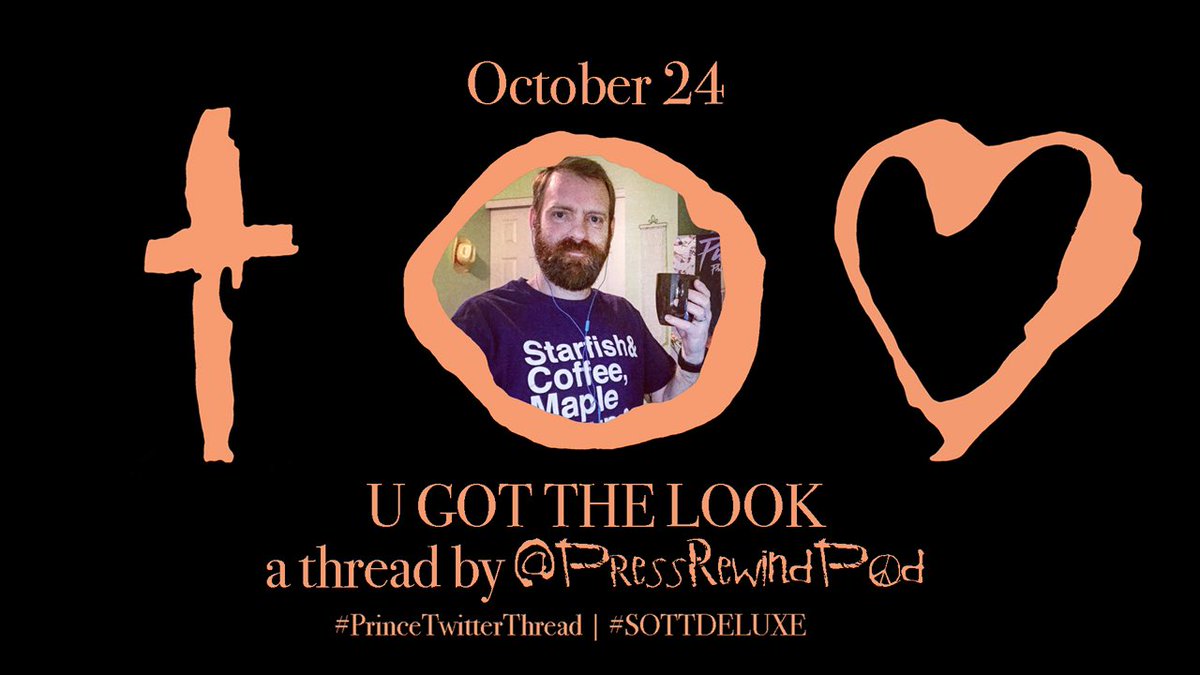 This particular thread is about the opening song on Sign O' the Times' 2nd disc, "U Got the Look." As the 3rd single released, it was also the biggest pop hit off the album in the US, featuring Sheena Easton on backing vocals AND has a slammin' music video (more on that later).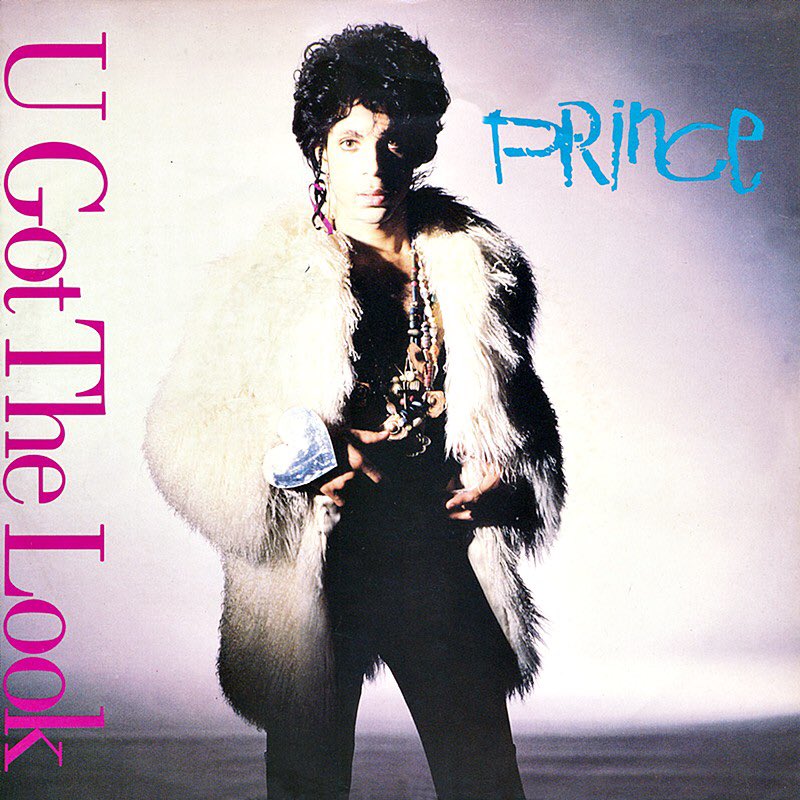 If you're reading this thread, you've heard this song before. I'm going to share the "Long Look" version because it's my favorite version of UGTL & it doesn't drastically change what made the album version so fun.
The purpose of this thread will be to CELEBRATE the sheer spectacle & awesomeness that is one of SOTT's most popular yet still somewhat polarizing songs and videos.
I will be breaking this thread down to two categories: History & Video.
History:
One of the biggest ?s I had while thinking about "U Got the Look" is its placement on SOTT & why it was even recorded at all.
Prince had more than enough songs to choose from on the triple LP Crystal Ball project, which he already needed to pare down to a double LP.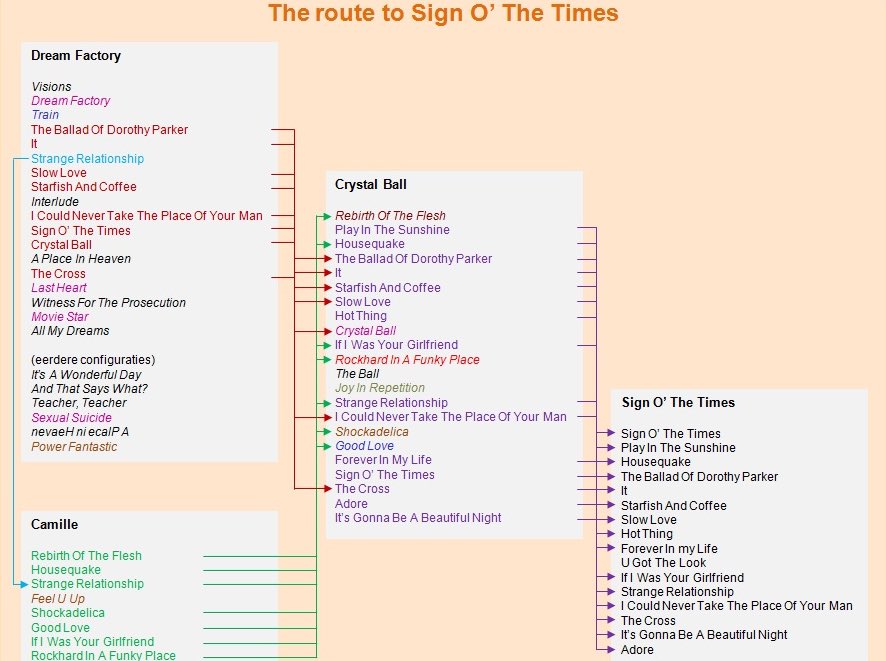 Why record a brand new song that would ultimately knock another one of the Crystal Ball songs off the final tracklisting? I have a few theories, none of them substantiated by any sort of facts, but that's not going to stop me!
In addition to not really needing another song for what would be the final configuration of SOTT, he also recorded it using his Camille voice. Why? Camille was another project that came & went in late '86, leading up to the recording of UGTL in late Dec of that same year.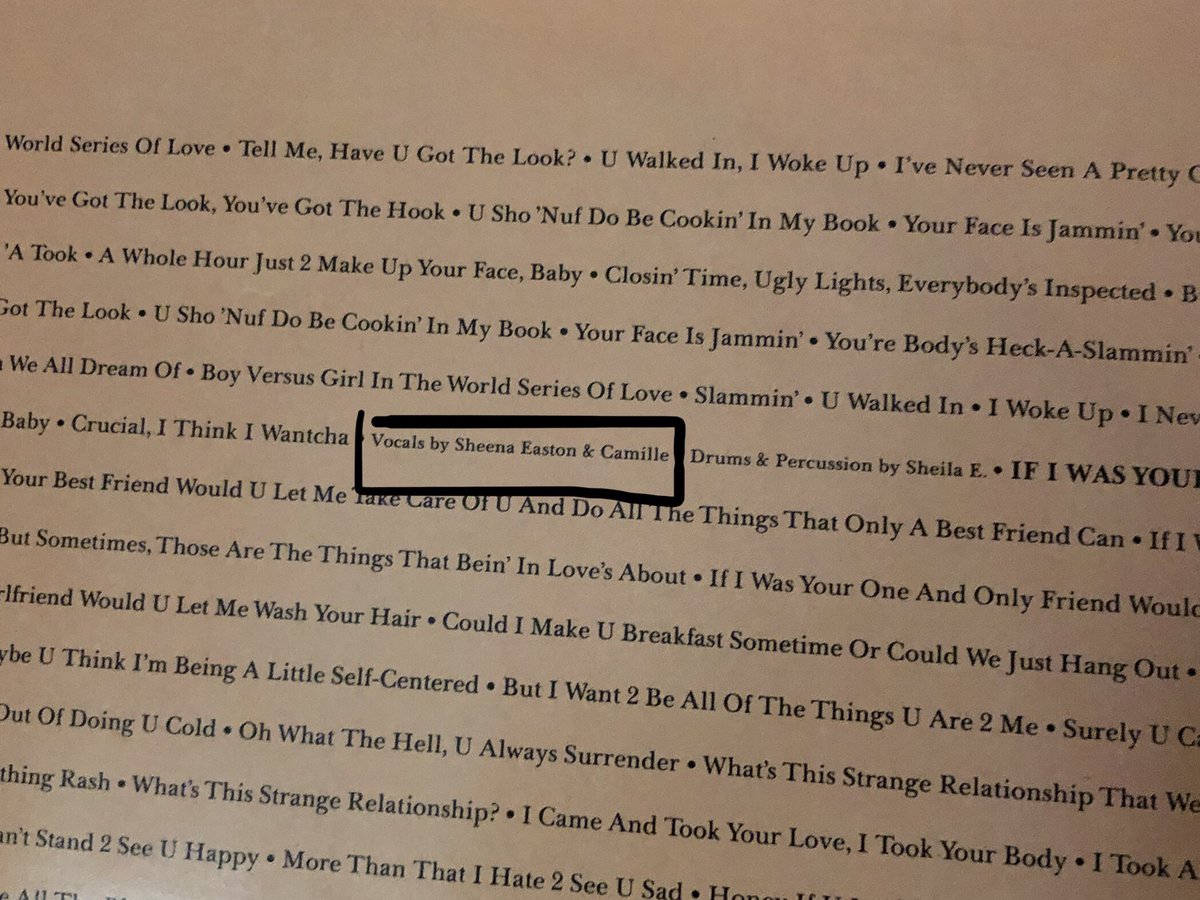 The Camille project had already been abandoned by the time he recorded UGTL, but Prince likely knew by this time that several of the Camille songs (If I Was Your GF, Housequake, Strange Relationship) would make the final cut. However, even more of them wouldn't.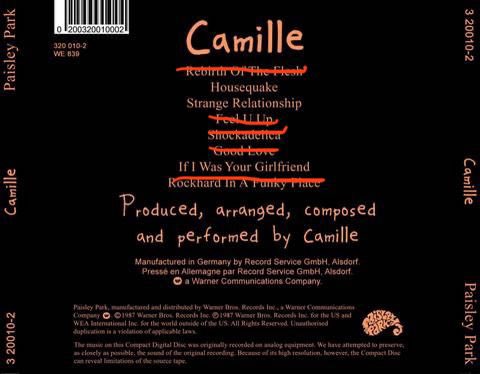 Is it possible that he simply wanted another song that utilized this persona, which could blend effortlessly onto side 3 (aka the long-ass song title side) along with IIWYGF, SR & to a lesser extent, ICNTTPOYM?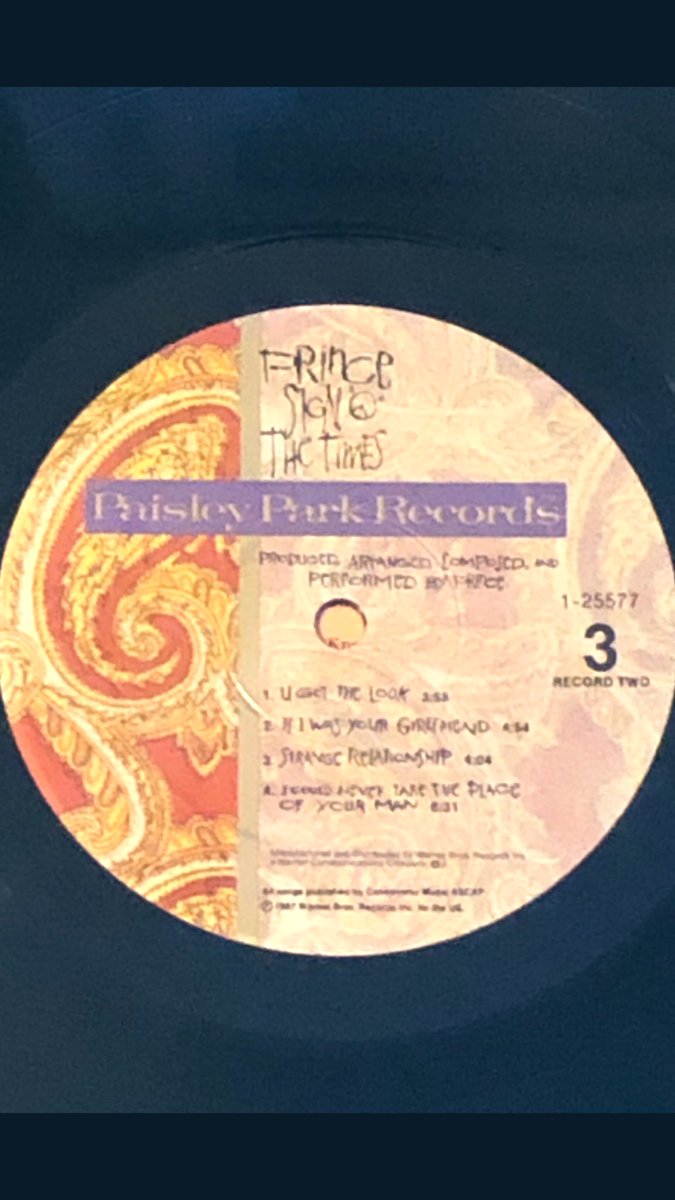 How about that Side 3 Camille trifecta? In essence, it feels like a summation of a doomed relationship. The intrigue & pursuit of a beautiful woman (UGTL), white-hot intensity coupled w/ jealousy of not being her EVERYTHING (IIWYGF), then the sad & vengeful dissolution (SR).
Is this why Prince recorded UGTL? Maybe he wanted to tell a story in a suite of songs held together by the Camille thread? "Housequake" was def not going to fit in with this narrative. Shockadelica? Too sinister. Feel U Up? Too dirty. Good Love? Not an origin story.
If you're Prince, you just write another song! According to Susan Rogers, he spent a lot of time recording this track, so it would appear that the time, care & artistry put into UGTL earmarked it as a future single.
Susan talks about UGTL at 30:39 mark.
Past anecdotes have indicated that Prince paid attention to the current musical landscape, & occasionally used this knowledge to write songs specifically intended to be singles/hits.
We've heard the Bob Seger/Purple Rain story before, but I wonder if there was another hit song from '86 that might have inspired Prince to create "U Got the Look".
Going back to the podcast, one could surmise the use of Camille voice on UGTL is simply an outcome of Prince's decision to speed the track up from its slower, funkier origins.
Slow. Funky. Words you could use to describe another song on Side 3, Strange Relationship, but not UGTL
What else could make UGTL a viable single besides the excellent combination of the bangin' Linn LM-1 drum machine w/ Sheila E's timbales, + the distorted guitar work & an excessive use of slang (crucial, sho'nuf, jammin', slammin', rammin', you get the drift)?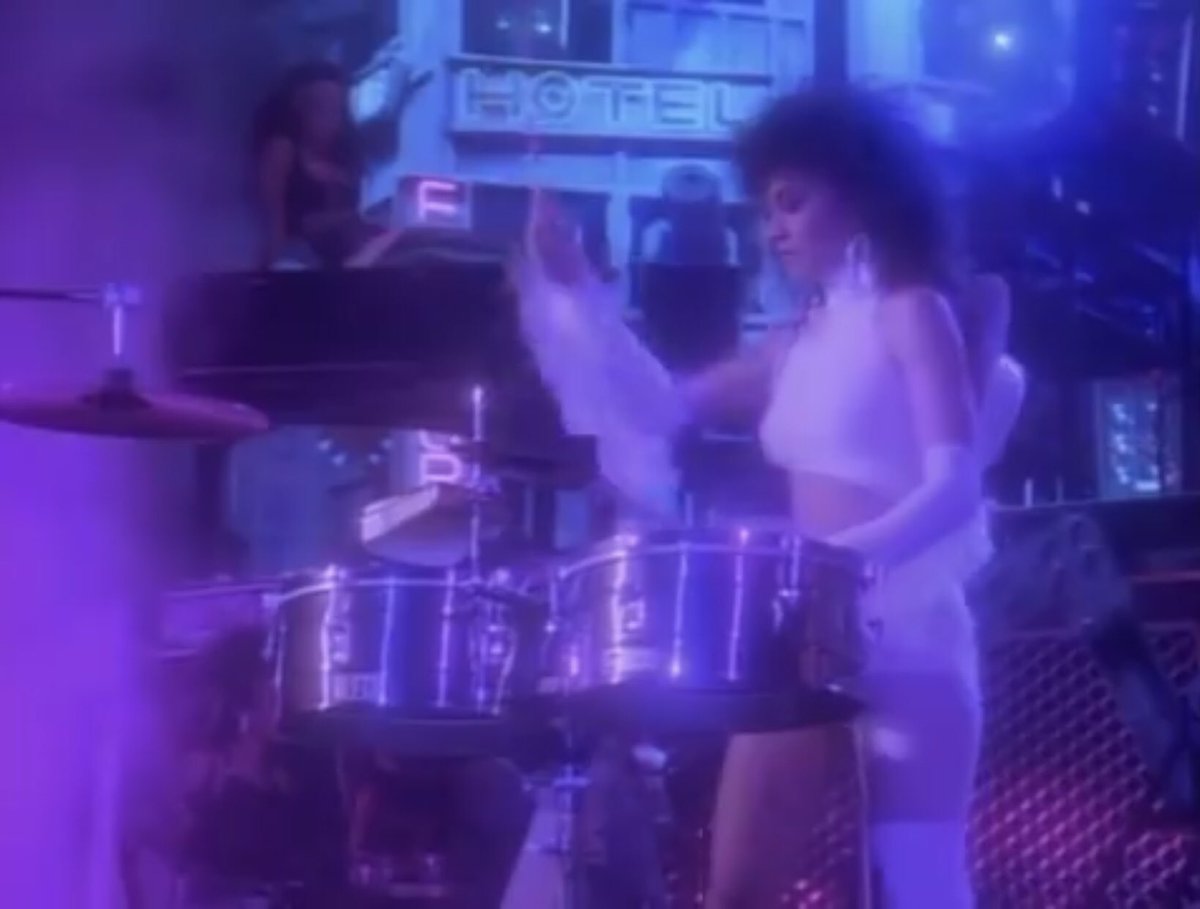 How about a co-vocal from Scottish pop star Sheena Easton, who herself took an Alex Nevermind, err, I mean Prince composition, "Sugar Walls" to top 10 status in '84?
Not to mention incurring the wrath of the PMRC, inclusion on their "Filthy Fifteen" list, & a lurid mark against her squeaky clean image.
UGTL stays somewhat radio-friendly, its "filthiest" moment is the use of the crude sexual euphemism, "rammin'."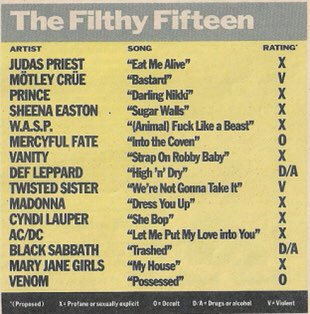 Obviously, this wouldn't be Prince & Sheena's last collab (e.g., "La, La, La, He, He, Hee", "101", "Arms of Orion"), but it was undoubtedly their most commercially successful.
Sheena spoke about her collaborative friendship with Prince back in 2012.
"'U Got the Look' was a track he'd basically finished for himself. It was just a Prince track. He said, 'Do you want to just come in and sing some backup vocals on the choruses?'"
"So I went into the studio, and because I didn't know I was singing against him, I was all over the place—and he said he kind of liked that, so he expanded it into a duet."
While I think Lisa Lisa and Cult Jam's "Lost in Emotion" is a great song, it stood in the way of "U Got the Look" becoming Prince's 4th #1 pop hit back on Oct. 17, 1987. I blame Full Force. We all know what time it is.
Nevertheless, UGTL ended up being the 38th biggest pop hit of '87! A better year-end placement than "1999" (41), "Raspberry Beret" (51), "Sign O' the Times" (60), "Batdance" (44), "Cream" (66) & "7" (52). Not bad for a song that was a last-minute addition.
Not to say Prince didn't have other major successes with 11th-hour album additions, "When Doves Cry," being one very famous and notable example. BTW, WDC ended 1984 as the #1 pop hit of the year. Jammin'!
Is it also possible that Prince felt compelled to record a brand new song, one that had no connections to his recently ended relationships, both personal and professional?
I don't know…as I said; it's all speculation on my part. Thinking logically, Prince didn't NEED to add UGTL to SOTT, but ultimately I'm glad he chose to record it & include it on the album. The song & accompanying video add much-needed levity to SOTT's side 3.
VIDEO:
Now I'm going to attempt to stick the landing by bringing this thread to a more personal conclusion by talking about the video. Whenever I listen to UGTL, but more specifically, whenever I watch the video, I am transported back to 1987 as a 12-year-old boy.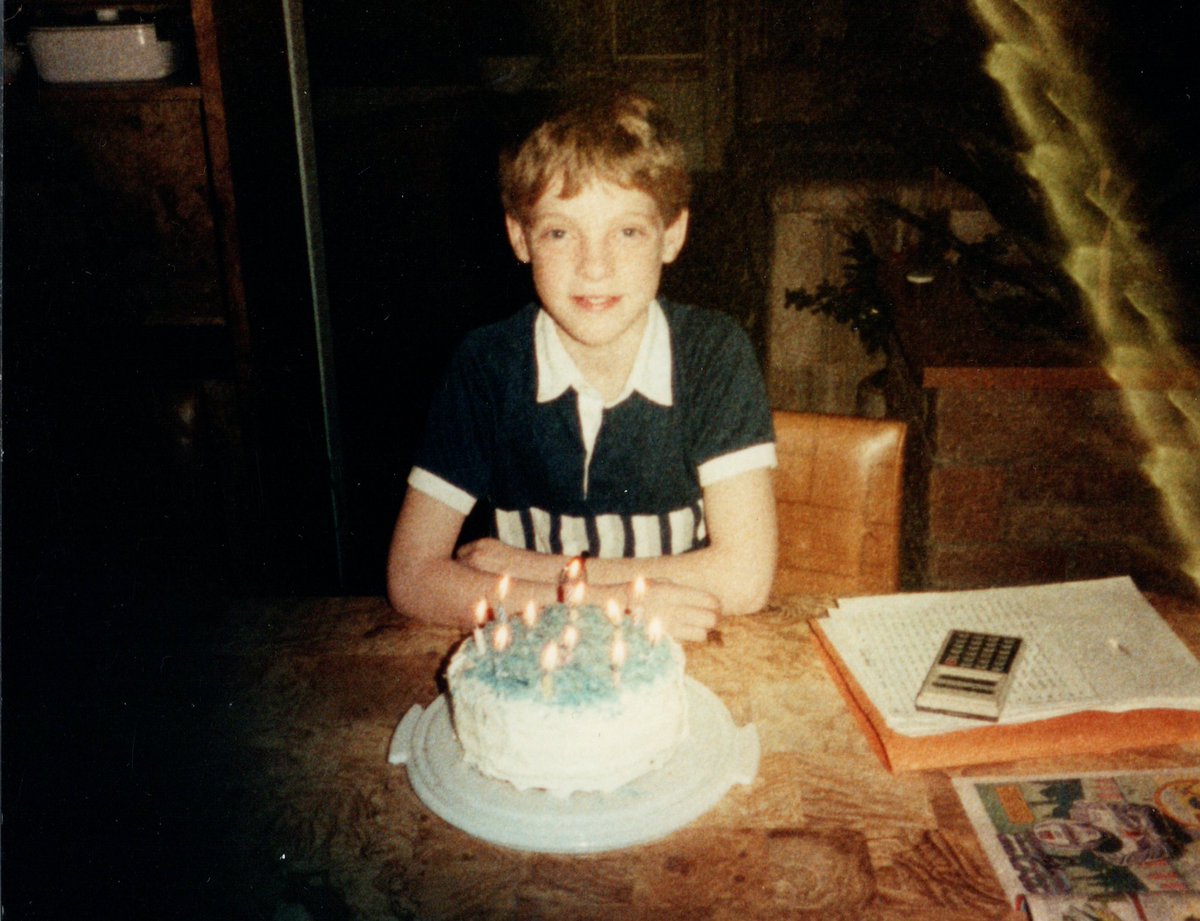 As @RhondaNicole_ mentioned in her thread, I was also an MTV kid, glued to the sounds & visuals from this relatively new medium. A new music video from Prince was a BIG deal in '87. SOTT video didn't get much play as only a lyric video & IIWYGF had no video at all.
How about that music video? It was choreographed by Cat Glover, directed by David Hogan & shot in Paris on 6-16-87, which was before the filming of the SOTT movie.
When the video was recorded, Prince & the band were in the midst of the SOTT tour & a 4-night stint in Paris. Just 4 days later, Prince would be playing the 2nd of 4 Utrecht shows, which wound up on the SOTT Super Deluxe.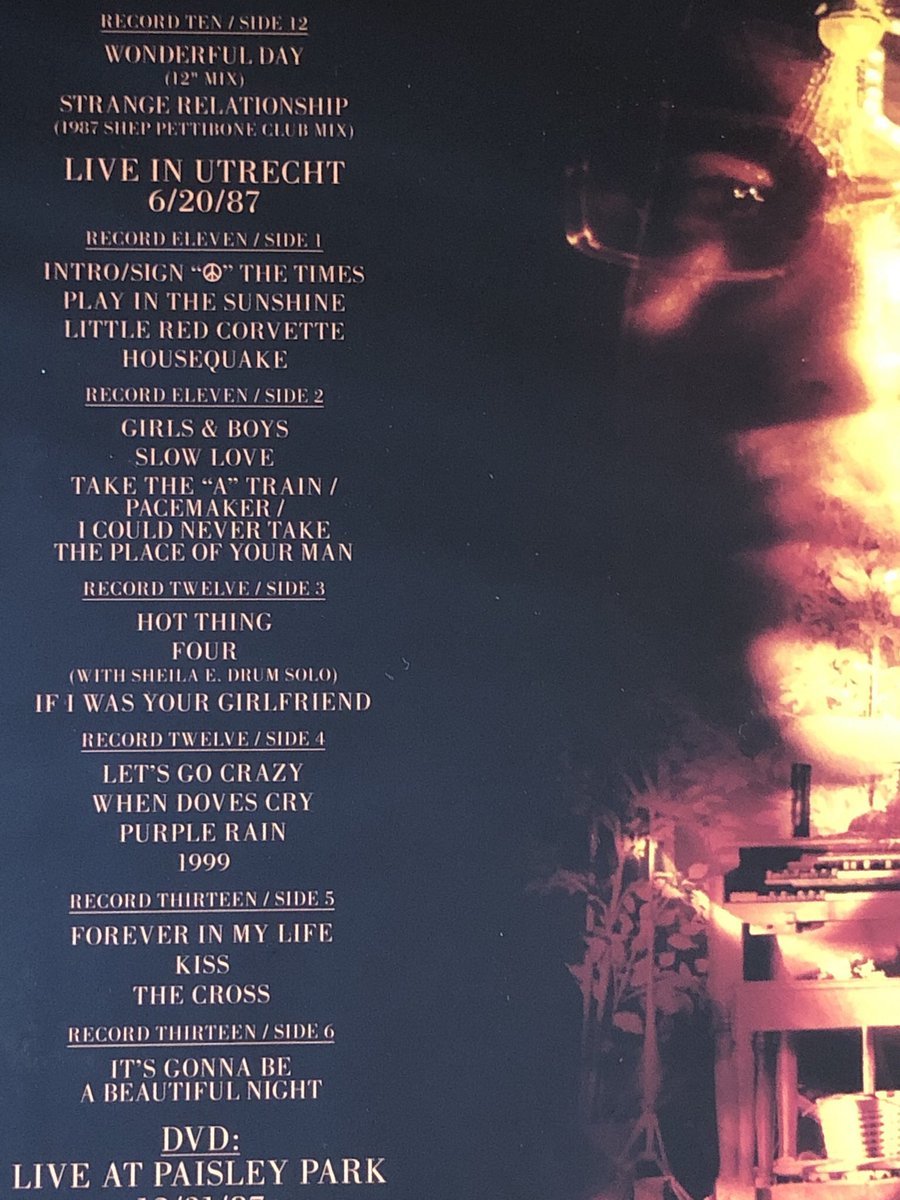 When MTV dropped the UGTL video, I was mesmerized. It had only been a little over a year since I saw Prince & Wendy in the stark video for "Kiss," so this was my 1st real look at Prince's new band!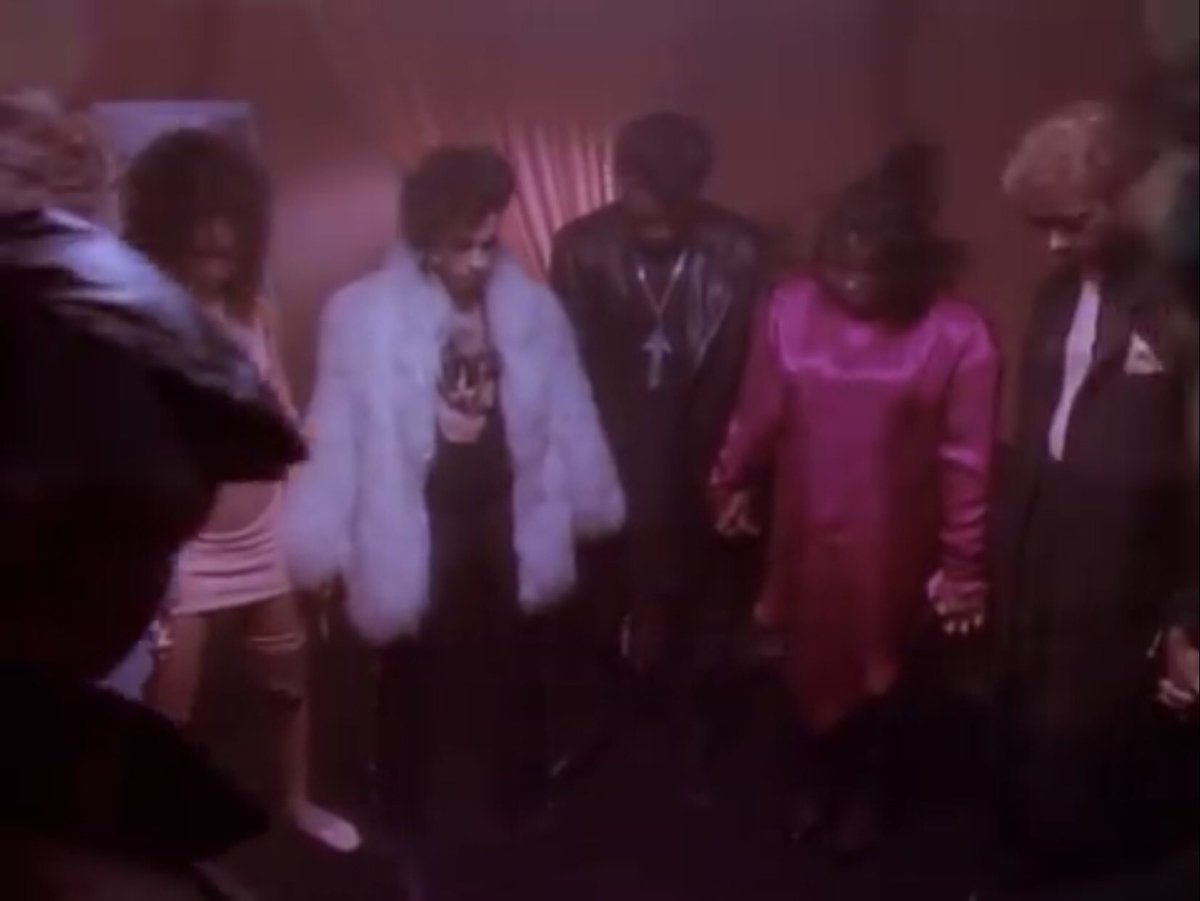 I already knew who Sheila E and Dr. Fink were, but this was my intro to Levi & Miko.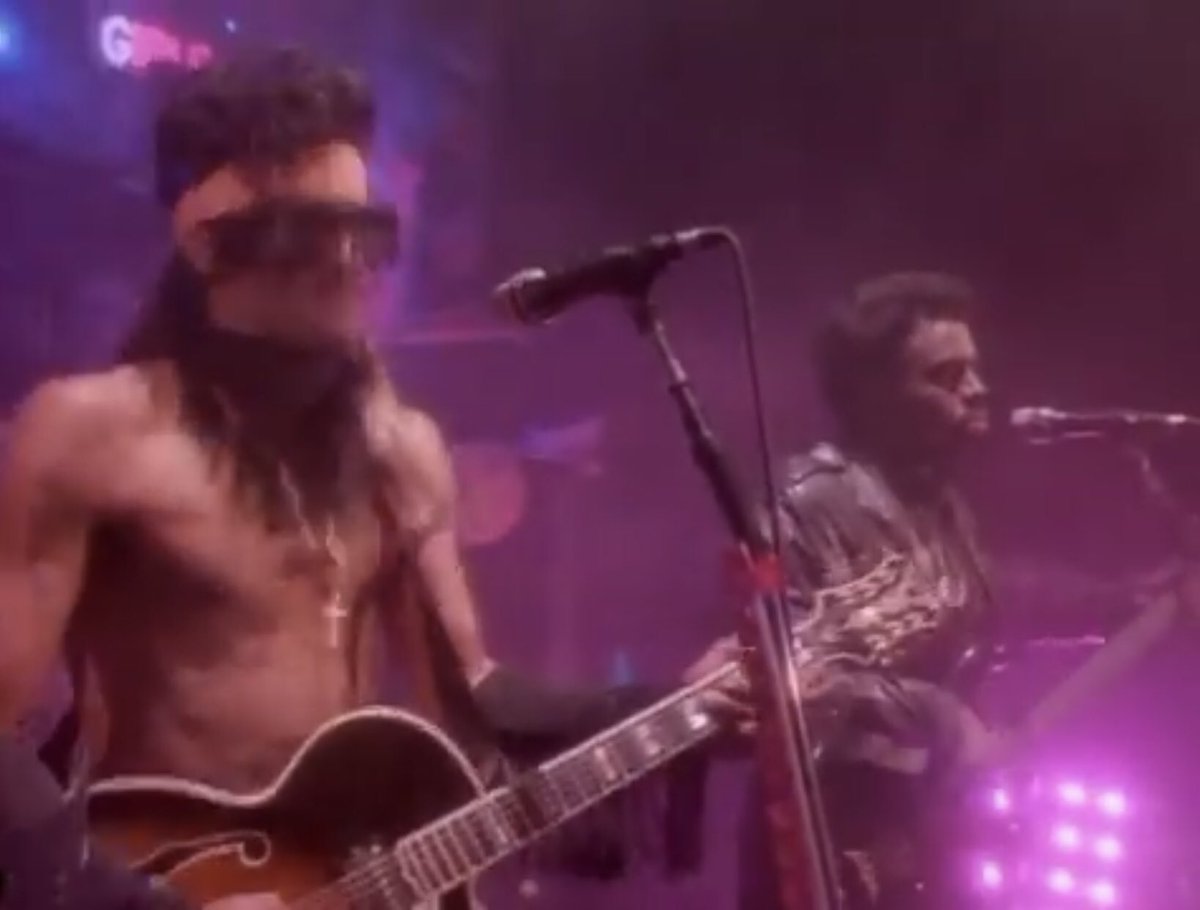 As well as Boni, Eric, Atlanta, Wally, Brooks
…and of course, Cat! It was officially a new era. The Revolution, the band I knew & loved, was gone, but the new band sure looked cool as hell & I was all in.
If you've seen the video, either out of context or as part of the SOTT film, you'll recognize it's part of a dream sequence. Prince has been trying to get Cat's romantic attention thus far in the film, but a mysterious flame-haired stranger temporarily diverts his attention.
Sheena is telepathically beckoned to a BAR-GRILL from her Paris dressing room, compelled to seek out this man who uses odd language (sorry that "hecka-slammin'" never caught on) & wears fur coats.
Prince is in the middle of a lust triangle. Boy (Prince/Camille) vs. Girl (Sheena) vs. Girl (Cat) in the world series of love. Cat does not allow the Scottish siren to steal her man from her, so she comically drags her conquest away in victory.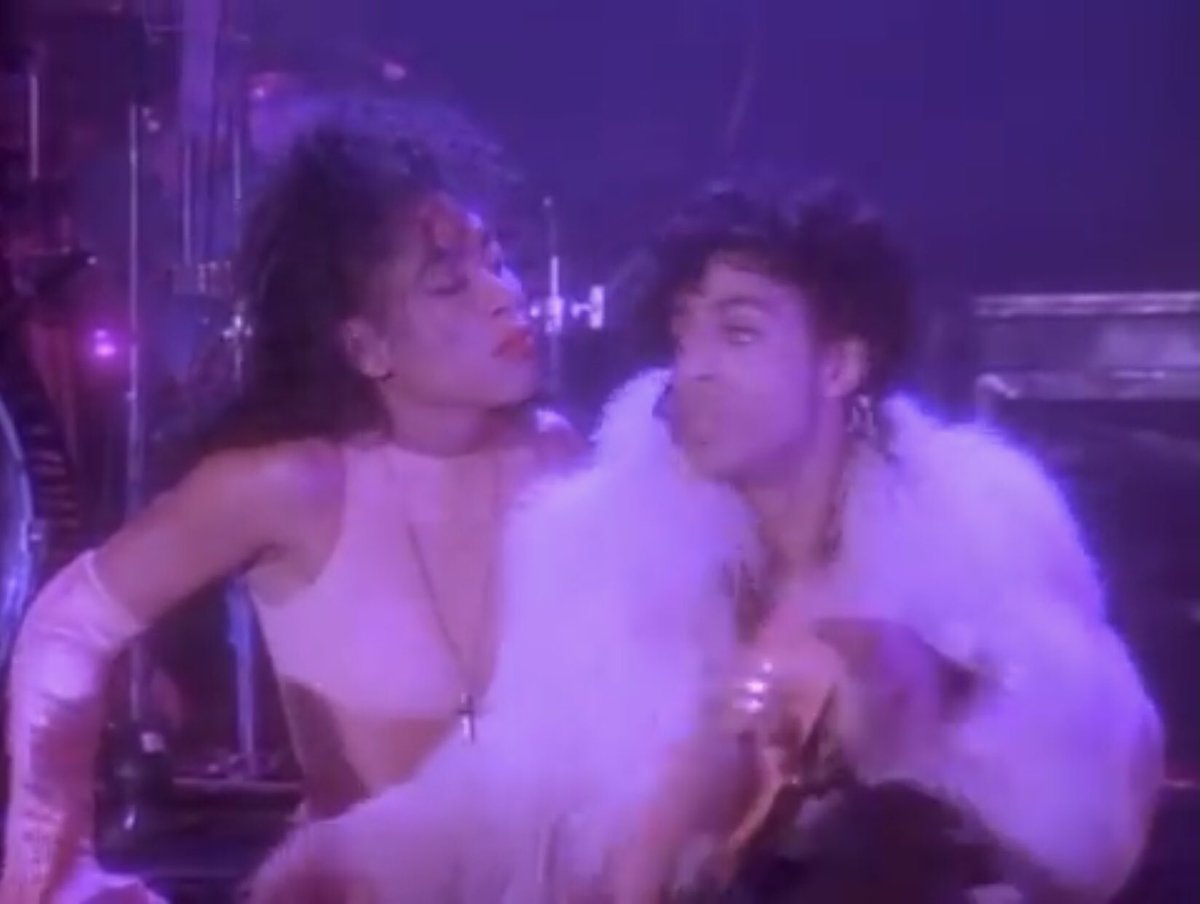 Cat then flexes her muscles for the memorable windblown silhouette finale. As a 12-year-old boy, you can probably imagine how fascinated I was by this video. Not 1, but 2 beautiful women are fighting over Prince!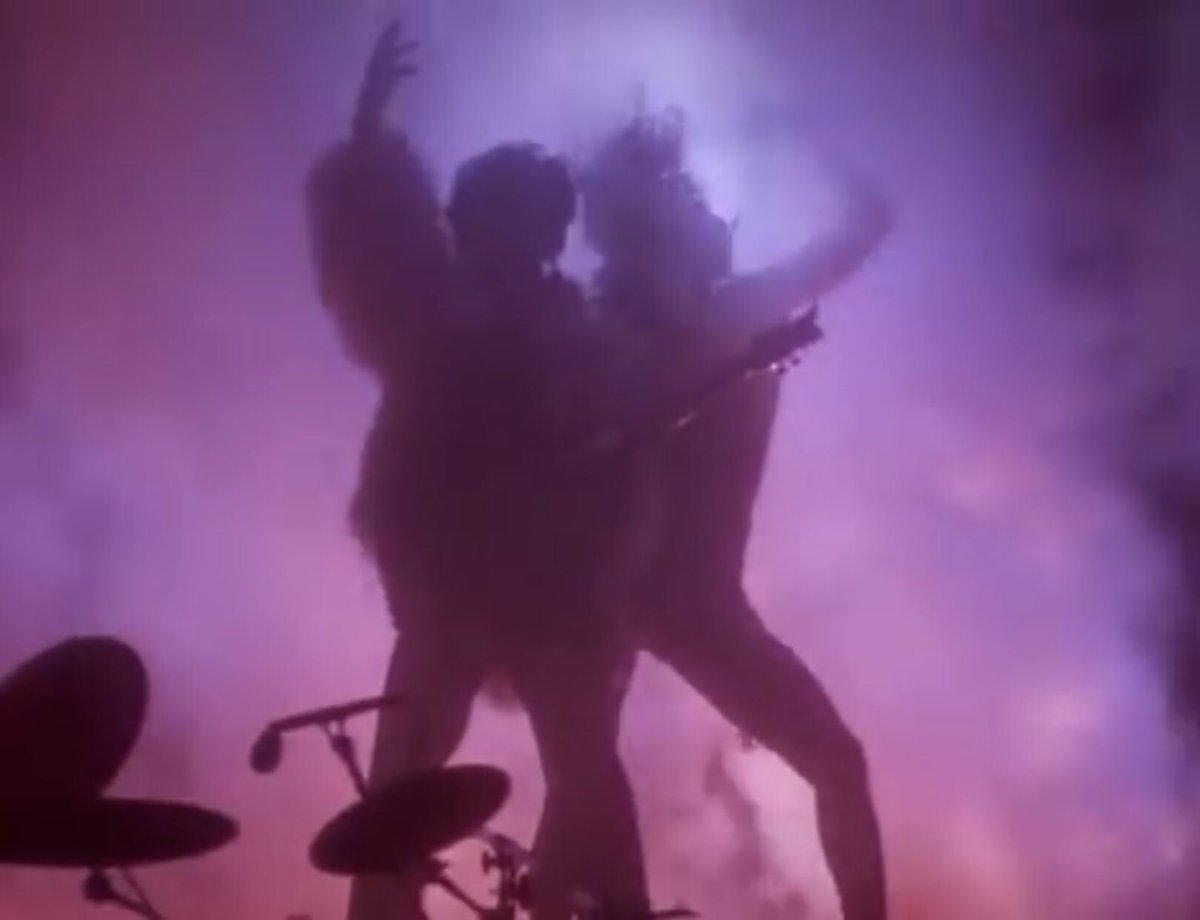 I've barely even mentioned Sheila E, which is a crime considering what she brought to the song as a musician & to the video for the iconic outfit she wears. This whole video is ICONIC and is one of my all-time favorite P vids.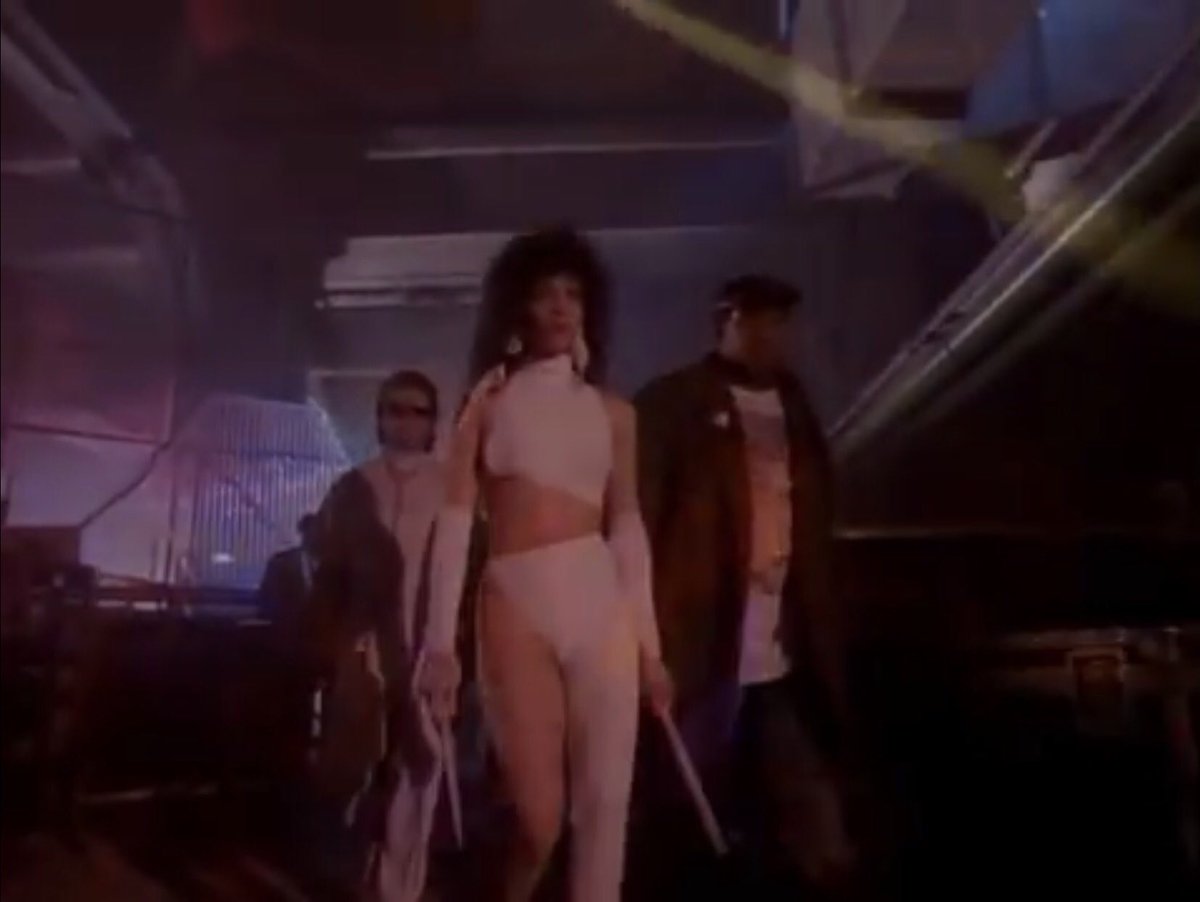 What also drew me to the video was Prince's lighthearted humor & his animated reactions to the silly yet clever lyrics. From "Jack U Off" to "International Lover" to "Baby I'm a Star" to "Tamborine" to "Kiss," horny-fun Prince is always a winner.
I wasn't the only one that thought this was a great representation of Prince & his band in '87. UGTL won an MTV VMA for Best Male video & it was nominated for additional VMAs for Best Editing & Choreography. As well as Grammys for best R&B song & best Performance by Duo or Group.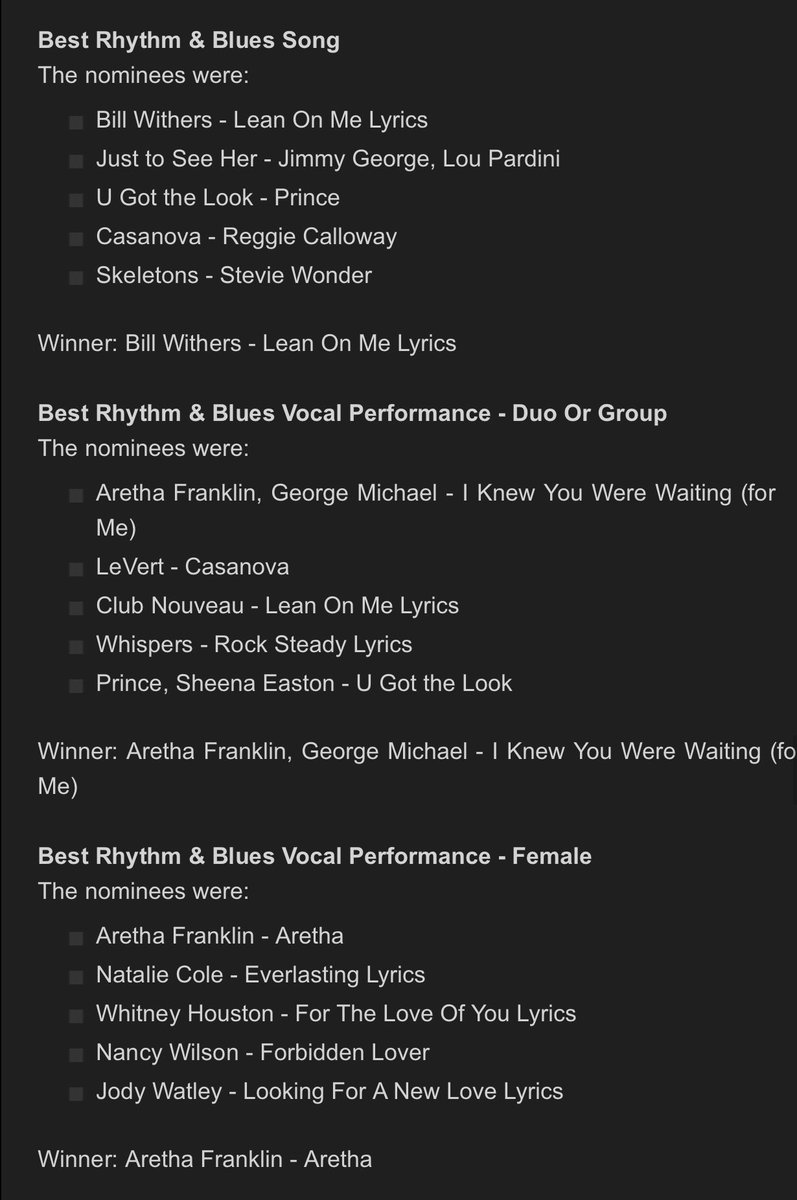 Prince performed at the Sept. 1987 VMAs, performing "Sign O' the Times" & "Play In the Sunshine," but did not perform "U Got the Look."
We also have to give UGTL the props it deserves for establishing on record the entire 🧡 & 🖤 aesthetic that became synonymous with the Sign O' the Times era. "Color you peach & black, color me taken aback."
Speaking of great lines, it doesn't get much better than "Closin' time, ugly lights, everybody's inspected." What a creative but realistic way of describing the pageantry & desperation at the end of an evening out clubbing.
Prince liked to play this song live years after its success, & I don't think it was simply bc it was popular. You can hear him interpolate the groove from James Brown's "I Can't Stand Myself" in this clip. Just another Princely way to make an old song new.
That's all for this thread. I hope you enjoyed going back to a simpler, peach & black time w/ me to recall "U Got the Look" for the silly, blast of rock, funk & dance that it is. Tomorrow @deejayumb will be diving into the psychosexual brilliance of "If I Was Your GF". Thank U!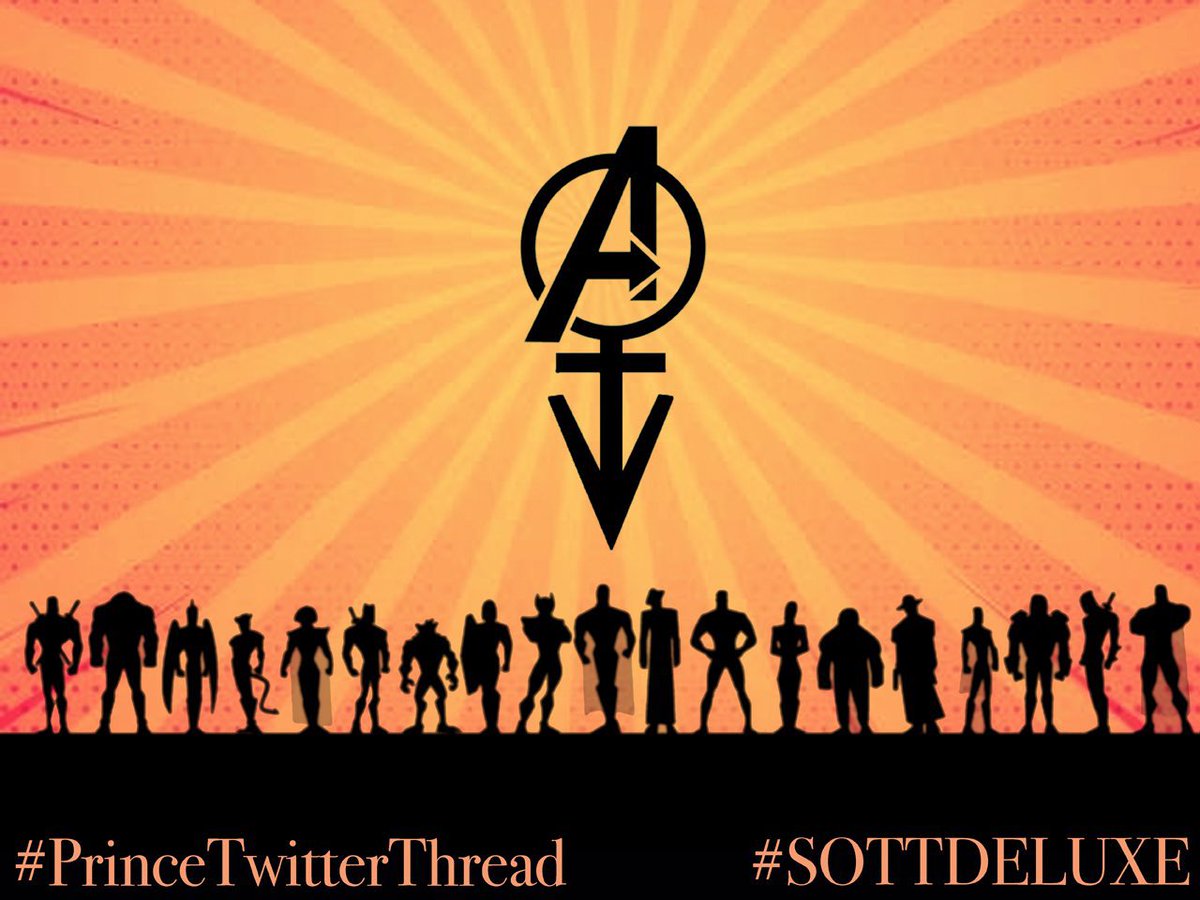 @threadreaderapp please unroll!
Originally tweeted by Press Rewind Prince Lyrics Podcast (Jason) (@PressRewindPod) on 24 October 2020.