Fashioning Sign of the Times
Check out the fantastic threads so far by @EdgarKruize @deejayumb @CaseyRain @RhondaNicole_ @scottwoodssays @arrthurr with many more to come!
#PrinceTwitterThread #SOTTDeluxe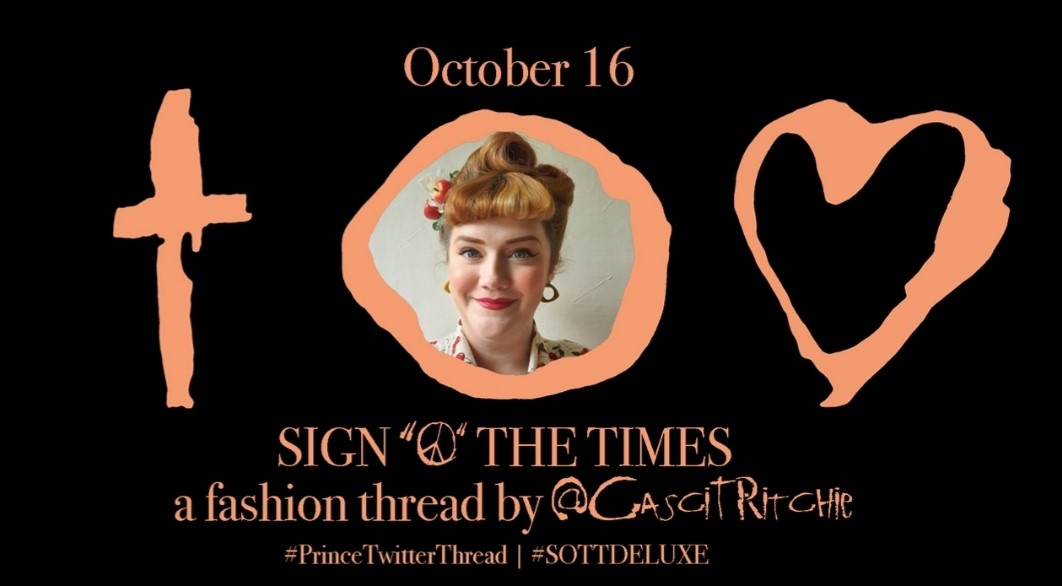 Welcome to the Fashioning #SOTT interlude where I'll be discussing the fashion of Sign of the Times!
Today I'll be discussing Prince's style throughout 1987, focusing on live performances, appearances, photoshoots and the film.
So tell me – have you got THE LOOK?
Prince's #SOTT wardrobe consisted of peach & black (of course), but also featured aqua, black & canary yellow. Lots of tactile textures featured throughout – fringe, Mongolian fur, leather, metal charms & vinyl motifs.
Interesting to note that orange & blue are opposite on the colour wheel & used often in the film industry. Traditional colour theory explain the colours pair well together & make each other POP!
Prince certainly POPPED onstage.
Orange & blue are associated with opposing concepts – earth vs air/ fire vs water/ good vs. evil – sound & look familiar?
Costume & staging for the #SOTT tour is based around varying shades of these opposing colours, inc. LeRoy Bennett's exquisite lighting. I could be reading too much into this, maybe coincidence but something to research further.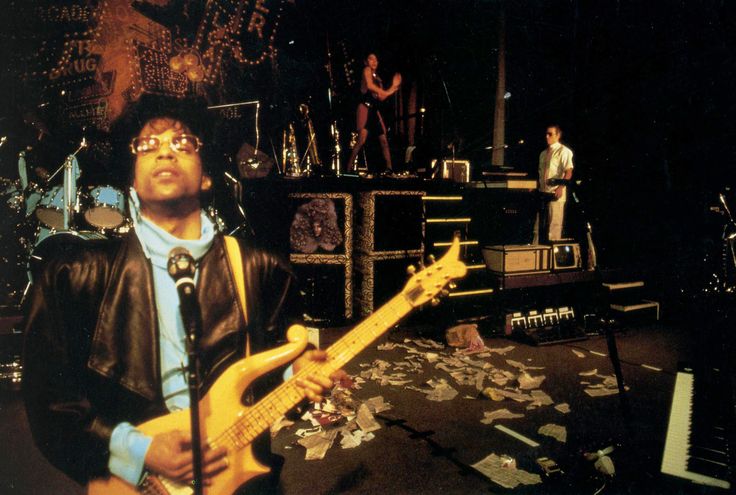 Anyway, let's look at Prince's preference for peach & black. Right away P identified peach & black as the colours of the #SOTT sound, pulling fans focus to striking opposing colour palette & symbols of peace & love immediately – quickly establishing the album's message.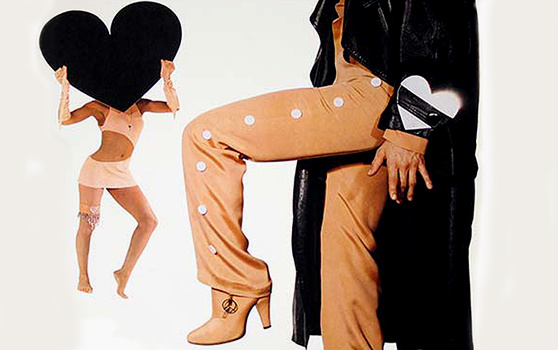 In true Prince folklore, the origins of Prince's penchant for peach & black are murky. One theory is the infinitely talented @jilldjones had a dog named Gertie (right) & Prince loved the dog's peach fur – simple as that. The dog on the left is Koo Koo (Co Co), gifted by P.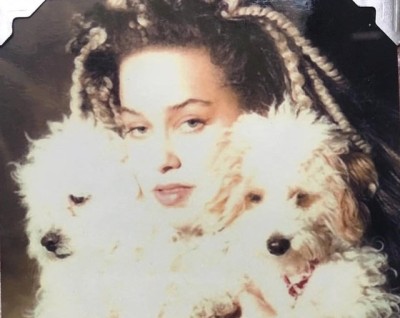 It's also thought that @susannahtwin's favourite colour combination was peach & black at the time. We know Susannah was busy making Galpin House a home for P, pastels were in during the 80s – perhaps he had pastel interiors on his mind?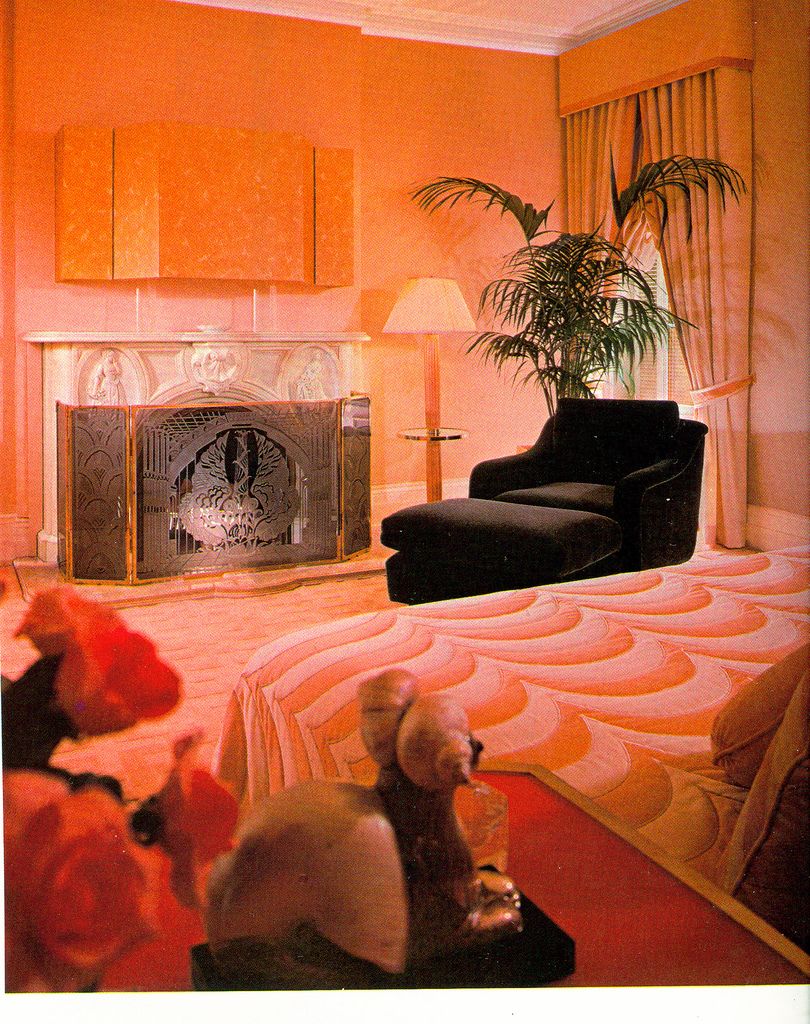 Susannah's personal tastes easily could had rubbed off on Prince. We know he was inspired by those closest. Perhaps this desire to feel closer to Susannah was intensified after their breakup? Was draping himself in peach an attempt to signify longing for his ex & collaborator?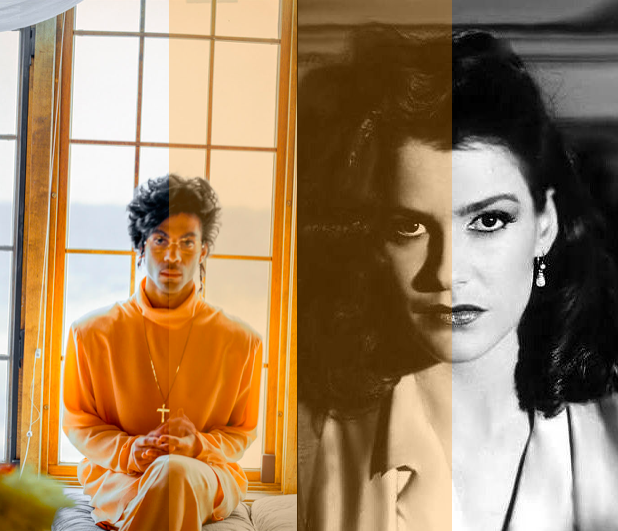 The peach dress reportedly made for Susannah fit Cat and she wore it, styled as Prince, for the album's promo shoot. We've discussed the P/Cat doppelgänger in the thread – I wonder if the plan was for Susannah to be front cover originally?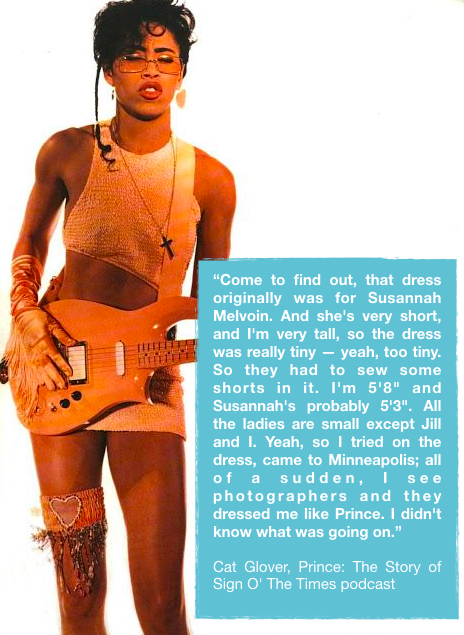 Either way, the idea that peach signified a close relationship, a closeness felt by Prince and the woman in his life (furry friends included) is reflective of his widely-documented personal changes at the time.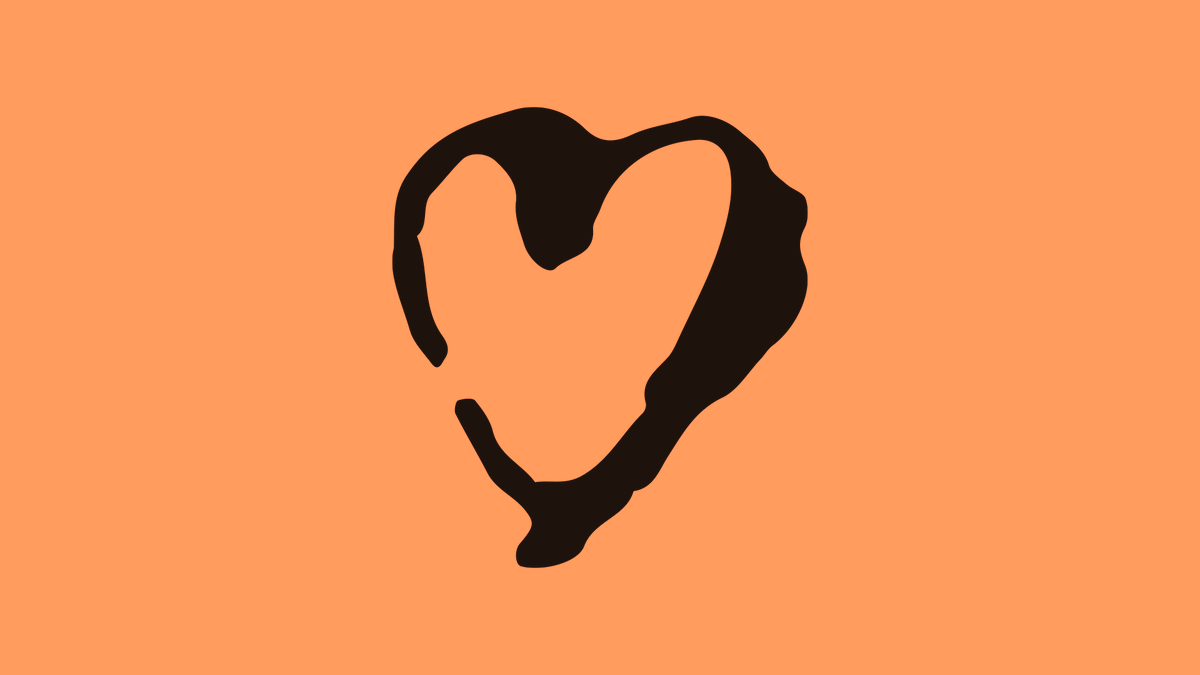 Following the Parade era, Prince began to retire more ornate fabrics in favour of clean graphic prints & silhouettes. He started to wear graphic symbols such as hearts, peace signs & crosses. #SOTT artwork, sets, accessorises communicated uplifting messages of love & salvation.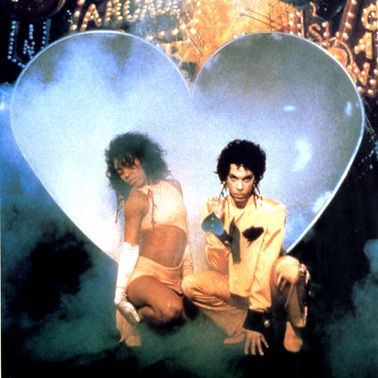 Prince's costume designer Helen Hiatt commissioned mirror jewellery from @mlstreitz for the #SOTT project & these graphic pieces were heavily featured in artwork. Streitz went on to create unique acrylic symbol belts, bracelets, brooches for Lovesexy, Graffiti Bridge & Batman.
Prince was yet again heralding in a new phase, urging fans to wear peach & black at concerts, just like the 1999 and Purple Rain tours. He knew the importance of relationship between fan & performer, peach and black was a visible unifier between the audience & P.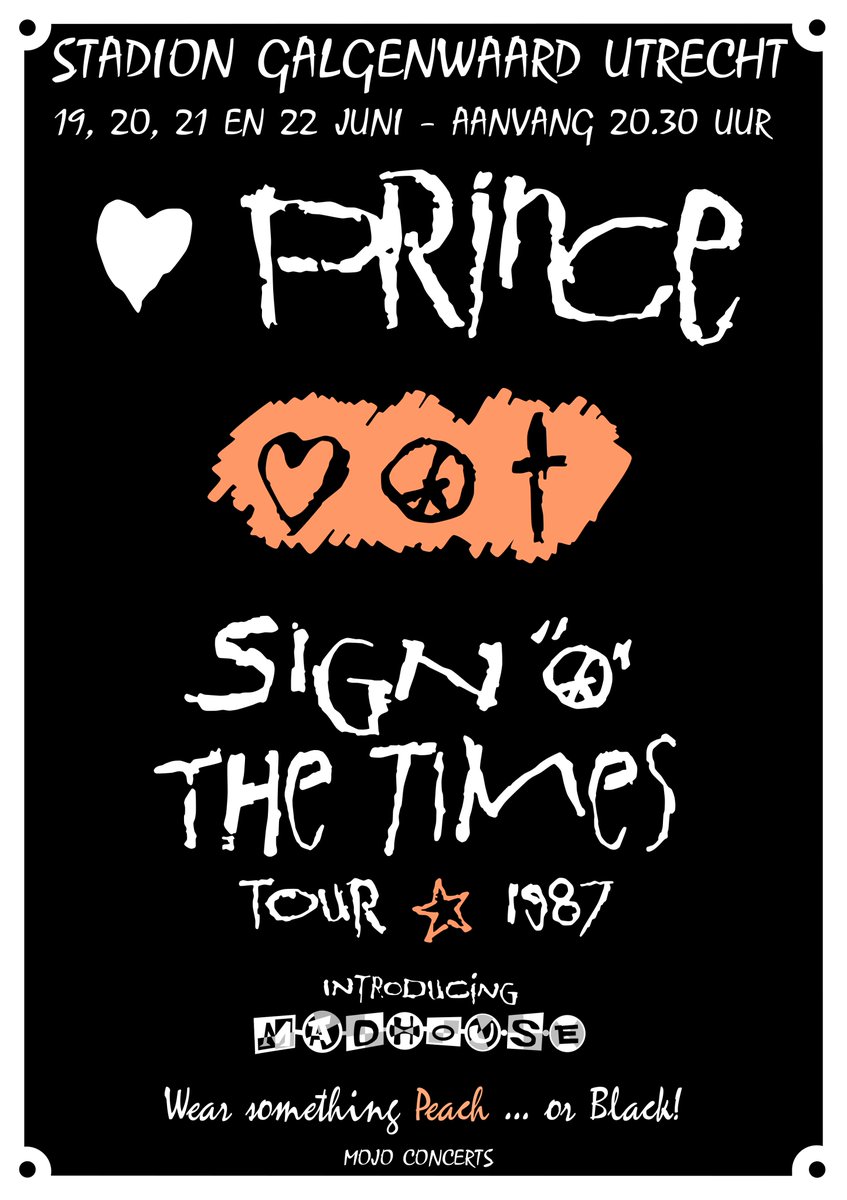 Jeff Katz high-def portraits, both at home & on the road, offer a fascinating insight into the development of Prince's sartorial legacy. His involvement in #SOTT expertly documents the style of the era in dazzling colour.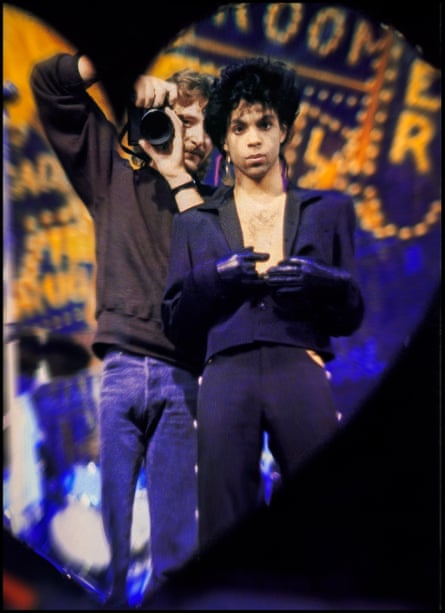 Katz recalls shooting the album cover, "He showed up wearing round glasses, with a braid in his hair – it was kind of a hippie rock retro look. This look could be attributed to psychedelic ATWIAD style remnants & aligned with the Paisley Park ethos.
Prince was fully immersed in the creation of his look throughout his life. This was no different for the #SOTT project. As Jeff Katz explains, "Those are his ideas, clothes; the style and accessories came from his artistic vision for the project and himself"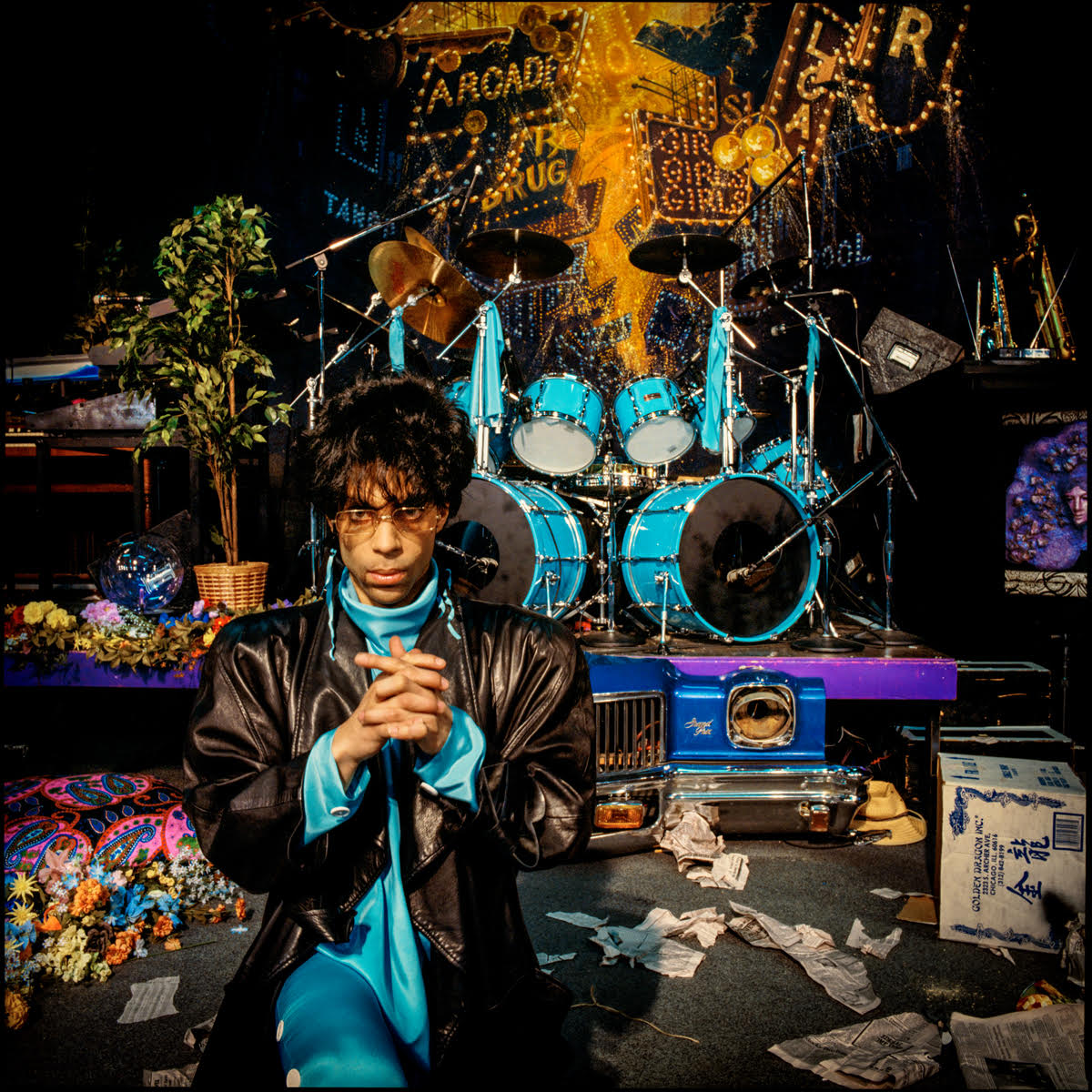 Performability was incredibly important for Prince – garments were required to withstand repeated stage-wear, remain durable & adaptable during energetic shows & command the audiences attention. This peach & black look worn through the #SOTT European tour is an excellent example.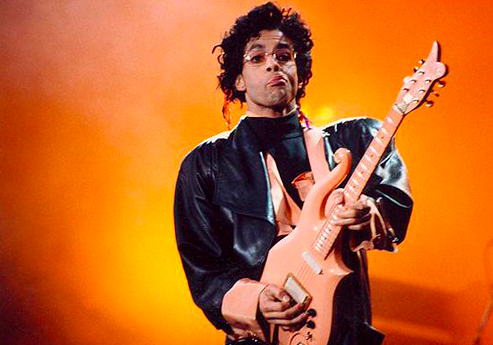 A Prince style-staple returns for #SOTT – the trench coat.
I talk about Prince's emerging style and style developments of trench coat in the recent book Prince and Popular Culture, details here –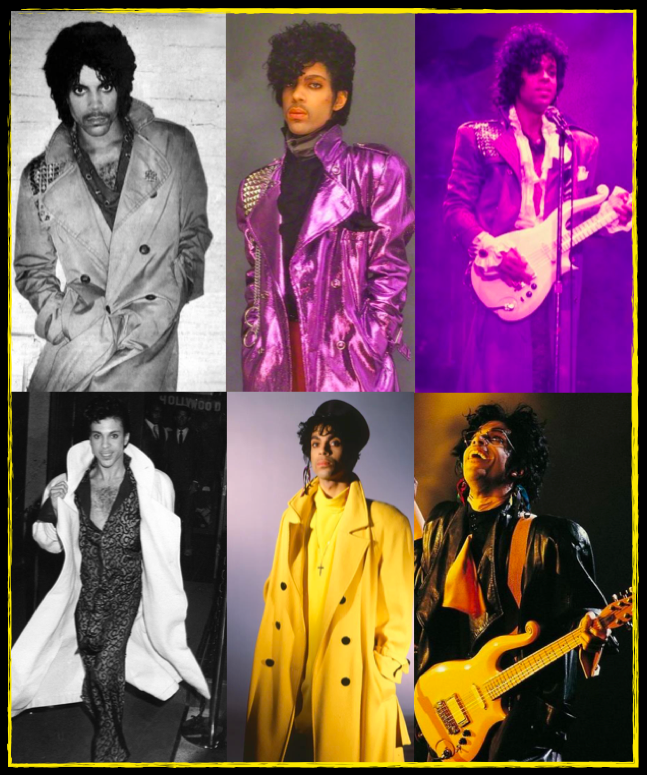 This time round the trench coat was produced in buttery black leather, oversized, cut loosely & worn belted. It's a more streamlined design. The coat frames Prince's peach undergarments and draws focus to the coordinating peach cloud guitar. Peach is in full focus.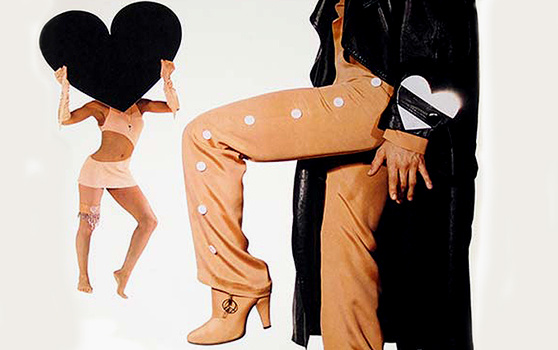 The guitar is the focus of the outfit, with the visible peach cuffs blending seamlessly with the instrument. As Prince performs, the coat flies open, flashing an all-peach silhouette, enrobed in high contrast black leather.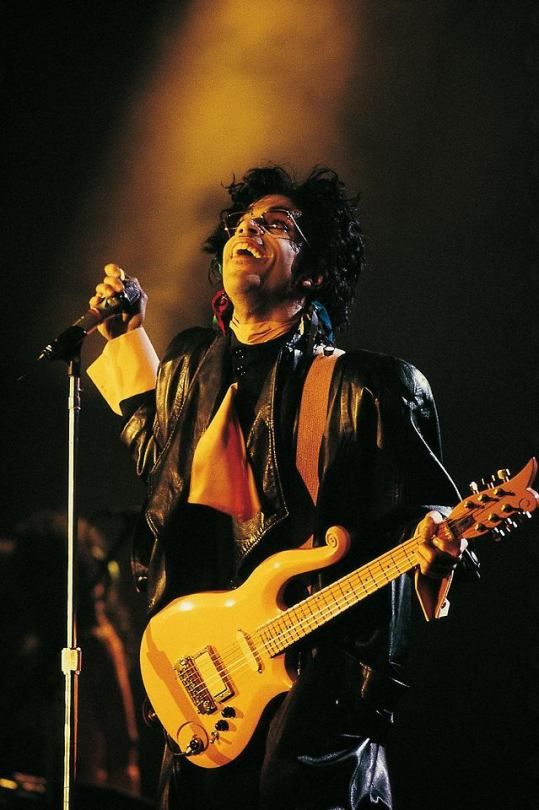 This colour blocked jumpsuit with minimal bolero jacket & stitched-on cravat (how 80s!) is a fascinating example of Prince's evolving style at the time. The pegged trousers evoke the look of a zoot suit (Parade) & are blended into a unitard (see Lovesexy/ Graffiti Bridge).
The #SOTT wardrobe needed to work HARD! Through clever trim placement, the metal symbols & fringing compliment Prince's kinetic energy perfectly. These garments were designed to carry through a cohesive visual & withstanding gruelling touring schedules.
Quick fashion history 101 – fringe has been very popular w/ performers utilising the trim 2 add movement & presence. Fringe is used heavily in performance but also traditional cultural garments like the Native American tunic worn by Hendrix as a homage to his Cherokee grandmother
The historical use of fringe in performers, particularly dancers and musicians was not missed by Prince.
#SOTT was the perfect workout for this trim – I mean just look at that fringe go!!!
Fringe has popped up in Prince's wardrobe throughout his life, thanks to its unstoppable onstage presence. Later in life Prince collaborated with Canadian designers @callandresponse to create a Seventies inspired wardrobe, heavy on Hendrix, embellishment and FRINGE!
The #SOTT silhouette was long and lean, with body conscious jump suits styled with oversized outerwear – denim jackets, boxy boleros, fur coats & leather trenches. This was a silhouette that Prince revisited often, working well on stage visually & practically.
It's no secret Prince was inspired by James Brown. He spoke to MTV in 1985 about this huge appreciation, "James Brown played a big influence in my style. When I was about 10 years old, my stepdad put me on stage with him, & I danced a little bit until the bodyguard took me off."
#SOTT wardrobe was in part a homage to both The Godfather of Soul's stage-wear & presence. Prince's pegged unitard with matching waistcoat during #S0TT is similar to James Brown stage wear in the 1960s.
Brown's signature jumpsuits of the 1970s had a definite influence on Prince's stage wear throughout his life, particularly in the later 1980s and 1990s.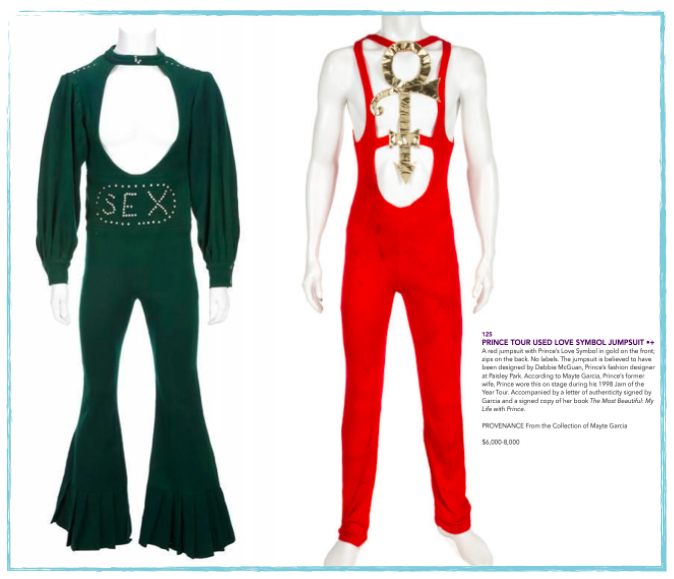 Jim Shearon was responsible for P's impeccable tailoring during the 1980s. His background was in theatre, working at the local Guthrie Theatre, Mi. It's no doubt Shearon's pattern cutting expertise was pivotal in making P's complex jumpsuits last all those splits.
That influence didn't end with Prince…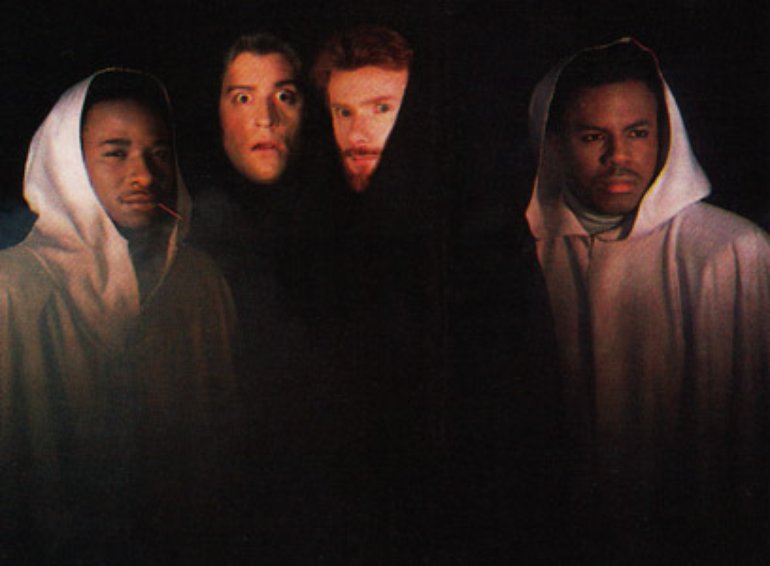 Madhouse donned hooded capes similar to the J. B. Band, sadly less flashy. Shame as I know Eric Leeds could have pulled off lurex!
Back to the jumpsuits – P's take on the garment morphed into a more extreme cut during the Graffiti Bridge era with striking similarities to ballet unitards worn here by ballet dancer Mikhail Baryshnikov. Makes sense with P practising ballet.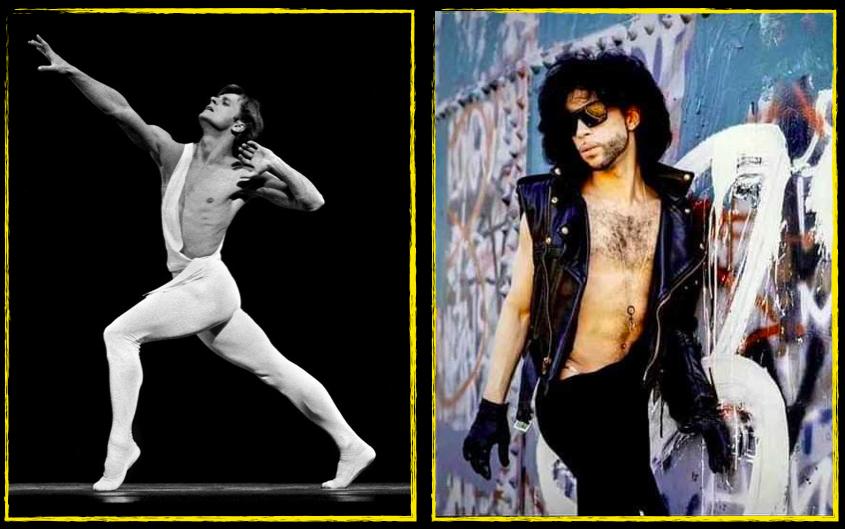 All this talk of jumpsuits leads me to the HOT THING outfit. I cannot quite express how much I LOVE this look. To be me this is peak Prince – peak life really. I'm posting only gifs here cause you need to see this outfit in MOTION!
This is a perfect case of costume and song working harmoniously. Prince uses the jumpsuit as a visceral vehicle for the song, every twist, thrust & bump emotive of the music. It also perfectly mimics the neon #SOTT utopia.
Prince establishes non-conventional erogenous zones by baring his gyrating, bejewelled in gold, thighs. He invites the gaze.
Here, Prince disrupts traditional codes of masculinity, as he has done before & continues to do so throughout his life.
Prince dials it back a notch with this black version of zoot unitard – this time with mis-matched embellished legs. Again the black outfit frames Prince's guitar which reflects a mirrored heart into the audience
The back panel of the jacket ruched in the centre to perhaps decrease excess fabric & allow movement. Prince dressed in black appears understated (in a P way), emphasising the earnest lyrics of FIML.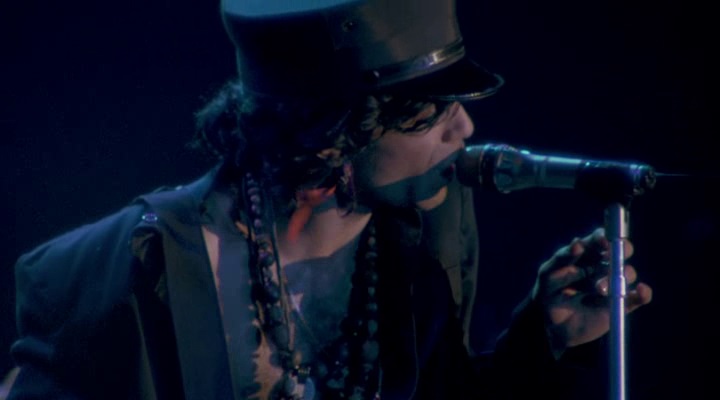 A little about that hat, similar traditional conductor cap is black with stiff crown, flat circular top, short visor & looks reminiscent of a French kepi. These styles of hats were typically worn by train conductors, brakemen & stationmasters in the 19th & early 20th century.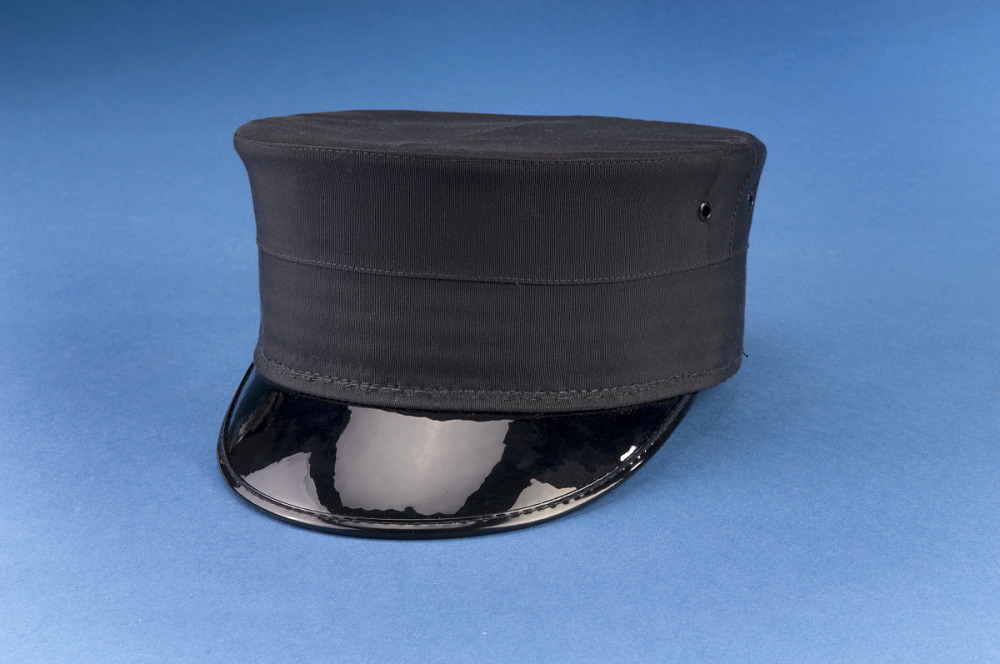 P's hat with sloping crown also bares resemblance to a Porter pullman design. Porter pullmans were African Americans who were employed to work on sleeper trains, Many of the first PP's were former slaves who continued to endure racial inequality in their new roles.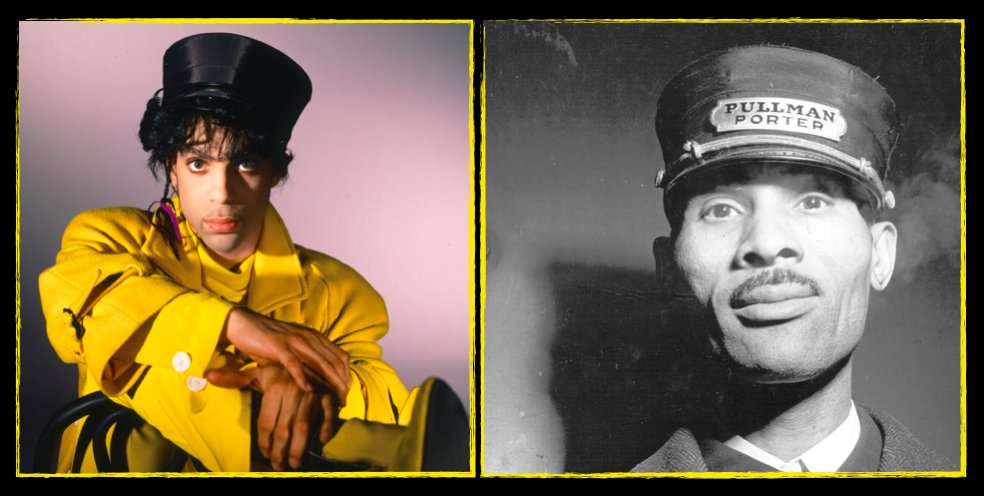 The hat pops up in popular culture amongst musicians often, like Janelle Monae's recent (& one of many) homages to her mentor & friend.
It may be a coincidence but could Prince be referencing this crucial part of Black history?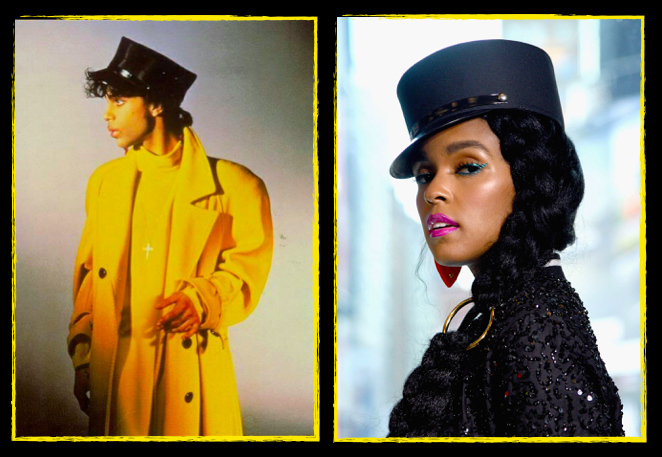 Fashion, style, the IT factor is central to U Got The Look and Prince brings out the big guns – his Big Bird coat that we've seen previously worn during Parade appearances.
At the start of the video we see Prince asleep, dressed down, infront of a dressing table full of cosmetics. (way more than Sheila E's!)
Prince uses the coat in an almost mating ritual manner, he is peacocking all through this video, the crimped fur shaking in frenzied motion.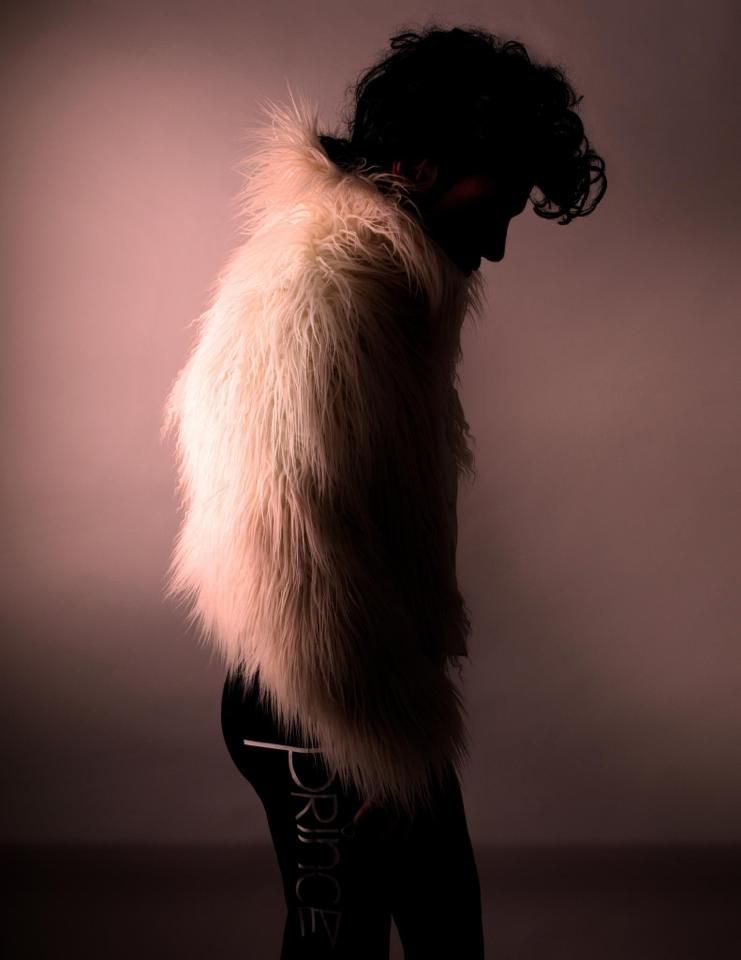 Sheena stomps on stage in Prince's peach and black get-up! Prince is chasing his own mini-me all over the stage, delirious with lust.
We know Prince had a thing about sharing his clothes with his partners, a sign of intimacy or projecting his ideal image onto others?
Prince using the coat as an obvious signifier for vulnerability is an interesting one, especially as we've gained more knowledge over the intent behind the song.
I'll unpack it one day but we're going celebrate Cat & Sheila before I finish.
Cat's clothing had to be fit for purpose – dancing for hours straight & complimenting P's outfits. Cat explained her bustier & prom skirt looks originated from her own personal which work in unison with the Guys n Dolls backdrop. She looks incredibly at ease in these styles.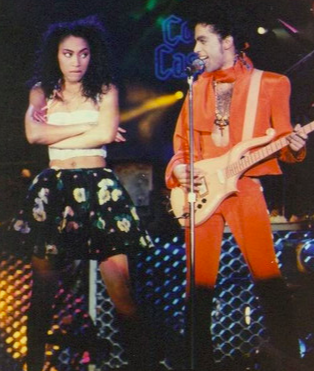 P was promoting C as the new girl. Looking at the images side by side Cat wears similar P glasses, her waist is accentuated w/ corset-detail paneling over a dress. The conventional feminine silhouette is juxtaposed by masculine starched collars & cuff – sort of business wear?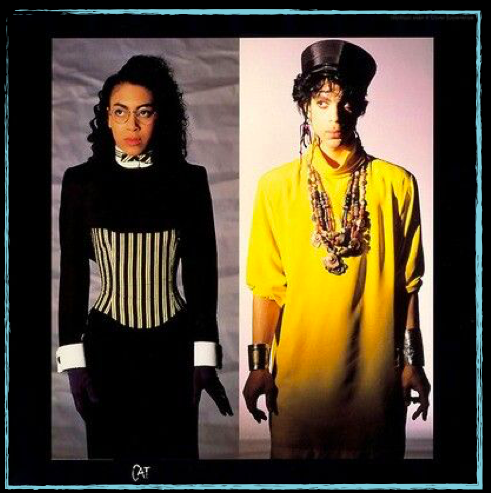 Prince & Cat mirror each others poses with Prince's silhouette highlighted in yellow, his body unusually not tailored. His metal cuffs mimic Cat's wrists and his defined curls falls from beneath his cap. P often styled women in similar ambiguous manner.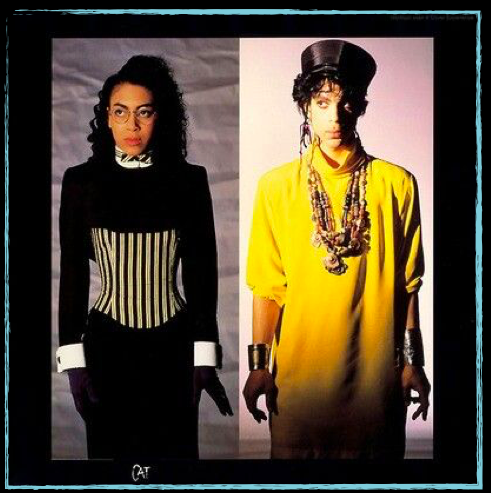 The clean, white, lean silhouettes of Cat & Sheila dressed in stretch jersey & terry towelling bounced Technicolour light off their white garments, further creating the neon dream-like club atmosphere.
They look absolutely off the charts – it's unreal.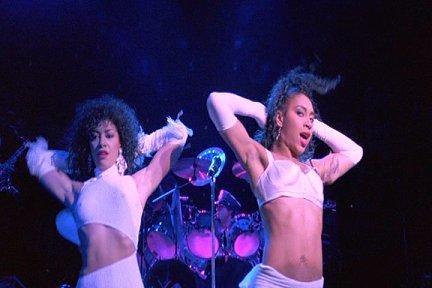 Prince & Sheila seemed to be involved in a real-life U Got The Look walk-off with Sheila trumping Prince in THAT high-cut one-legged pair of trousers!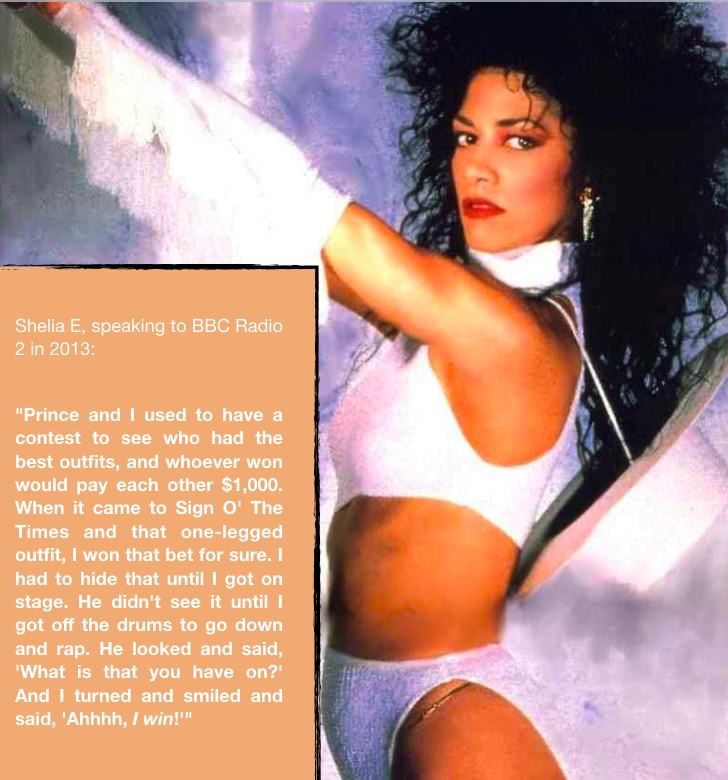 And this is Prince, Cat & Sheila's take on….NORMCORE?
Wait did Prince start normcore?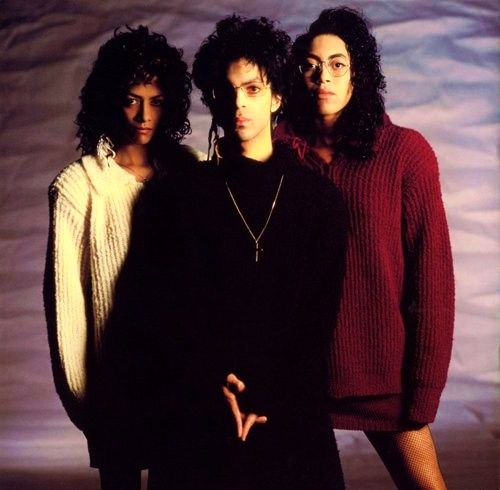 Okay Prince's all denim look – undoubtedly one of his most iconic fashion moments.
The boho-hippy, purple dreamer look pairs well w/ the social commentary of #SOTT. The DIY denim jacket a symbol of the every man but also the dreamer thanks to the offbeat customisation.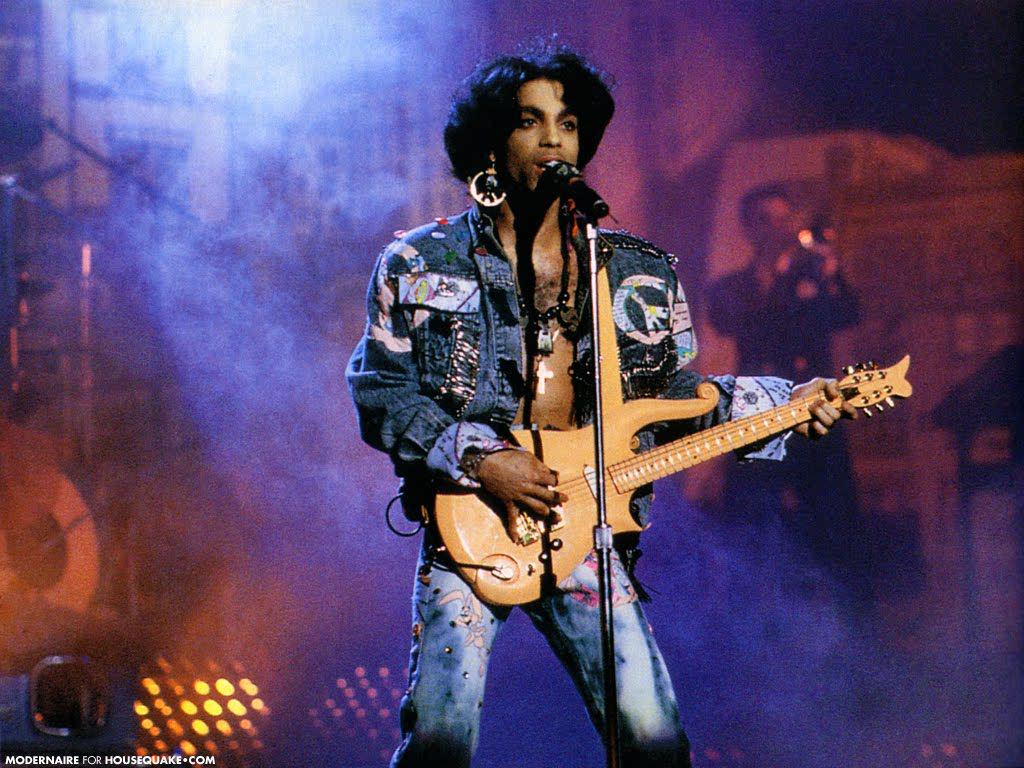 Denim wasn't often in Prince's sartorial wheelhouse but when he wore it, he wore it well. And not by halves, double denim all round!
P's 1987 jacket is adorned with symbolic trinkets; hearts, peace symbols, mirrored acrylic hearts, peach buttons.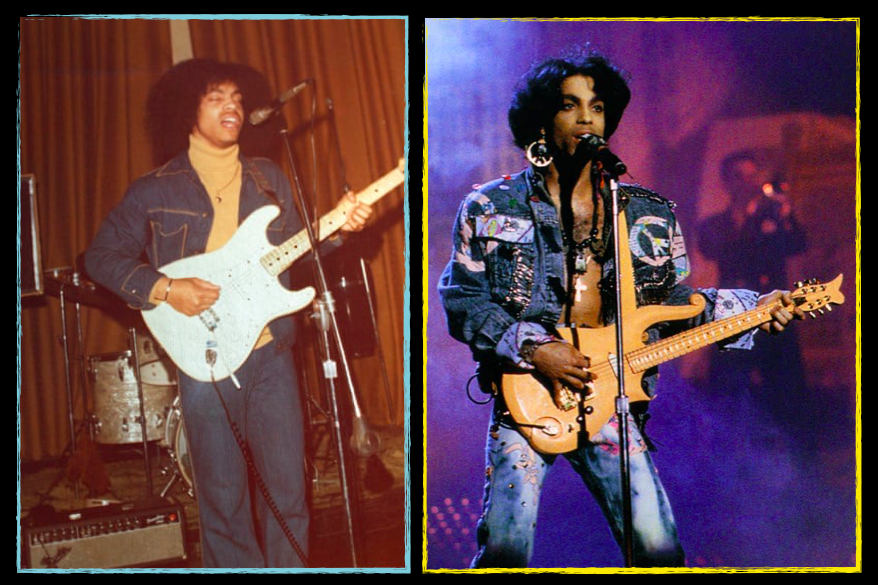 Dark acid-wash denim with upturned collar & boxy silhouette exaggerated w/ stacked shoulder pads, a P signature. The jacket is DIY'd w/ fringe, rhinestone trim, glass heart beads, peach buttons stitched in black & fabric appliqués.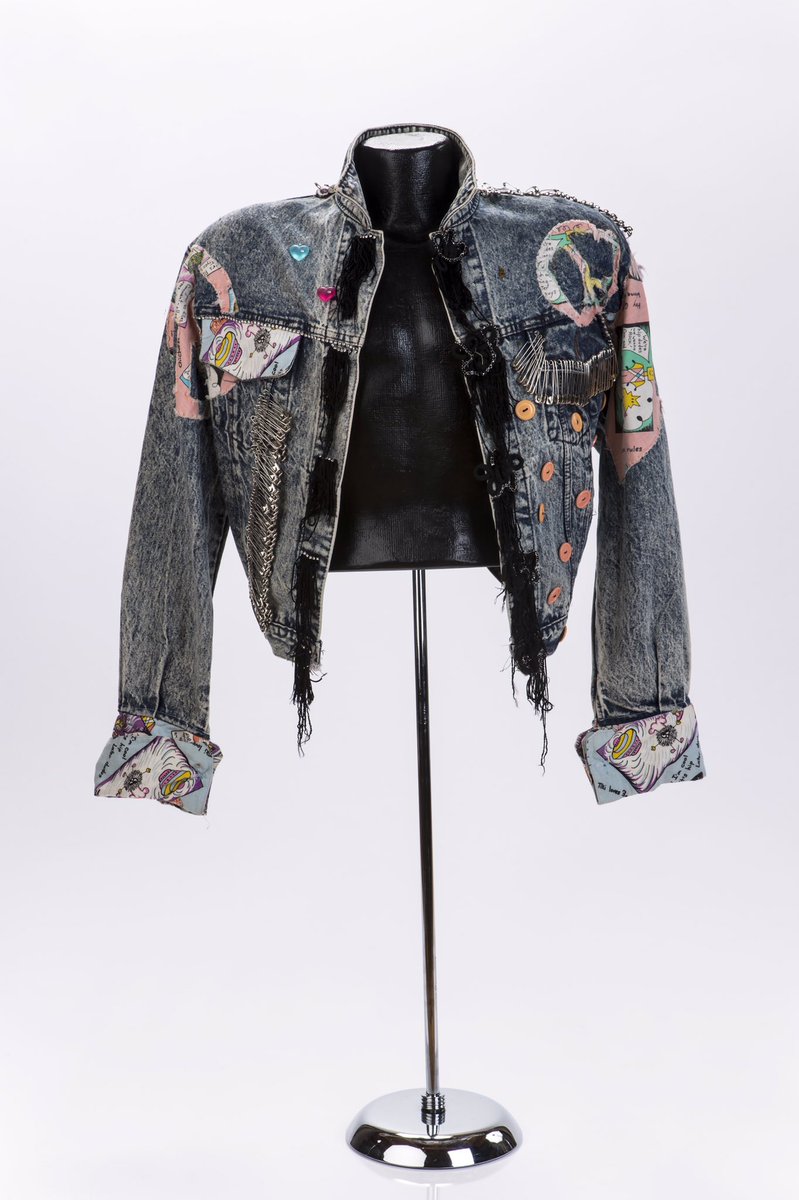 Safety pins are placed strategically to echo the features. You can see the hand-stitching – I love seeing details like this of (soon to be) PP team. Shout out to victrolavixen on Imgur for sourcing the original fabric, check out the amazing replica –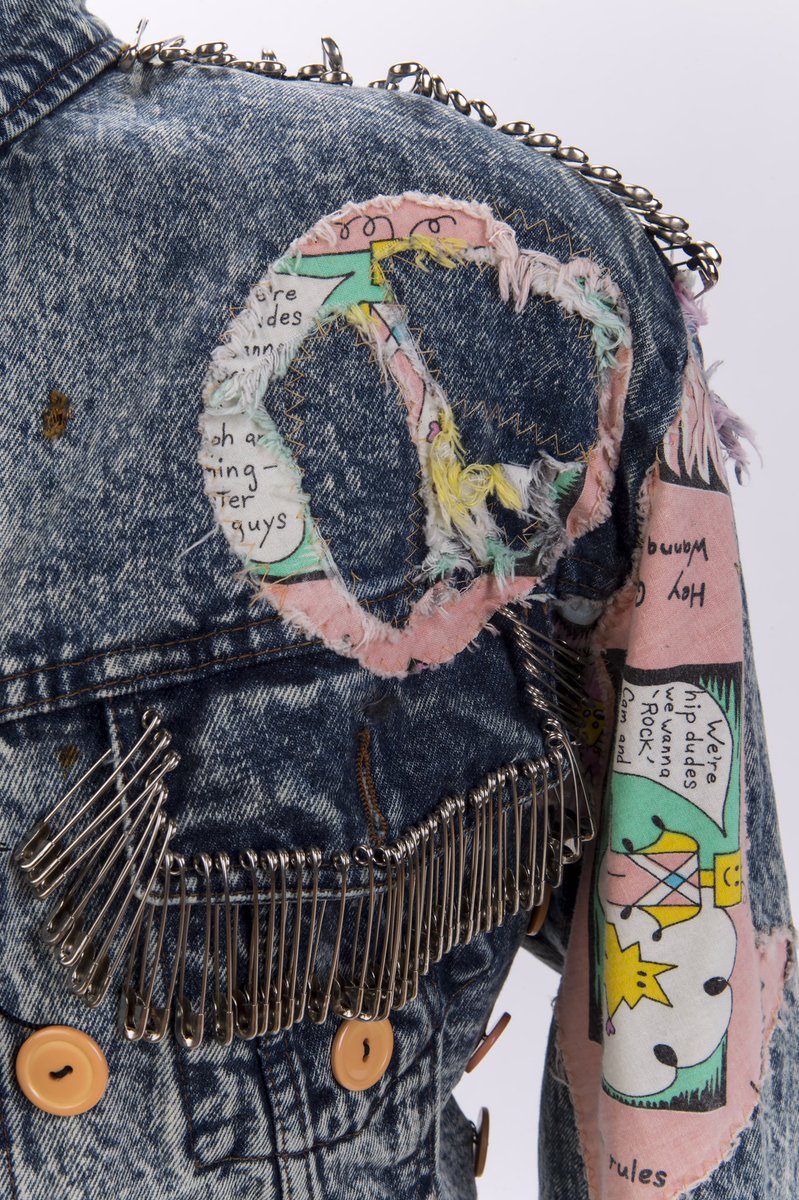 Strange tangent here – French Fryzz was a LA business who made clothing from flour sacks & seem to really lean in heavy to fast food gimmicks. The fabric used for P's jacket is a pink variation of a comic-book French Fryzz design.
P's customised denim is reflective of the overall 'hippie' vibe of #SOTT. DIY was popular during 1970s within counterculture to express self – a protest through fashion. In subverting the traditional denim jacket it displaces the jacket are decorative as well as functional.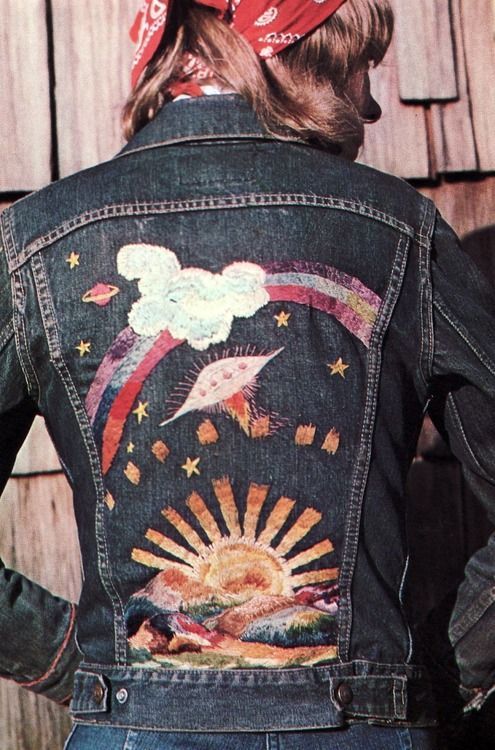 Fans have been wearing Prince on them for decades now. The custom clothing communicating to other purple fam worldwide. Even the estate are offering a DIY look-a-like denim jacket.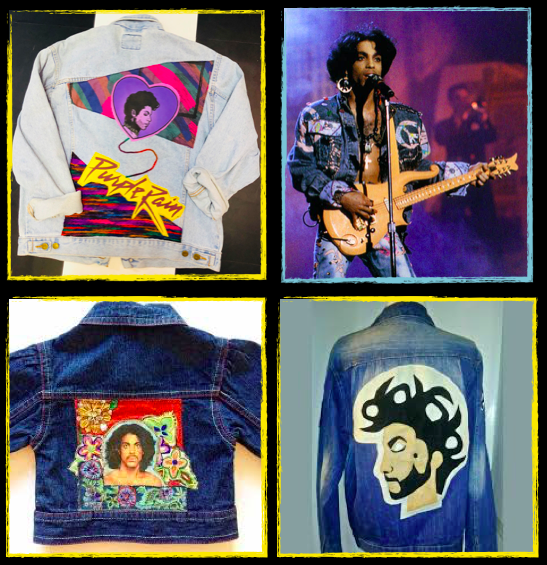 'Strictly no jeans' is often mentioned when discussing Prince's meticulous style requirements of his peers. Funny how one of his most prolific looks is a denim one-hit wonder (loosely speaking).
SOTT was a pick'n' mix of sights & sound.
I think so many of us love this era for Prince's experimentations in style, its rare we get to see him try stuff out.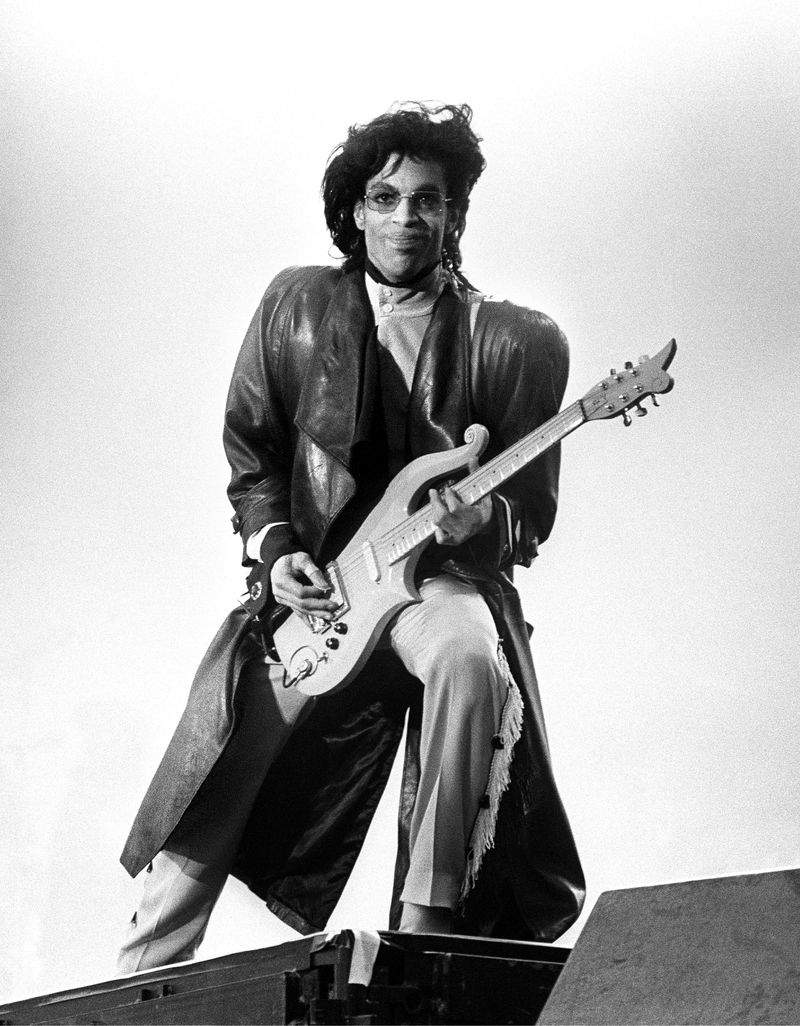 With Sign of the Times Prince once again introduced us to a whole new artist, this time with a new band. Styles were uniquely different yet somehow cohesively linear, a true Prince mystery.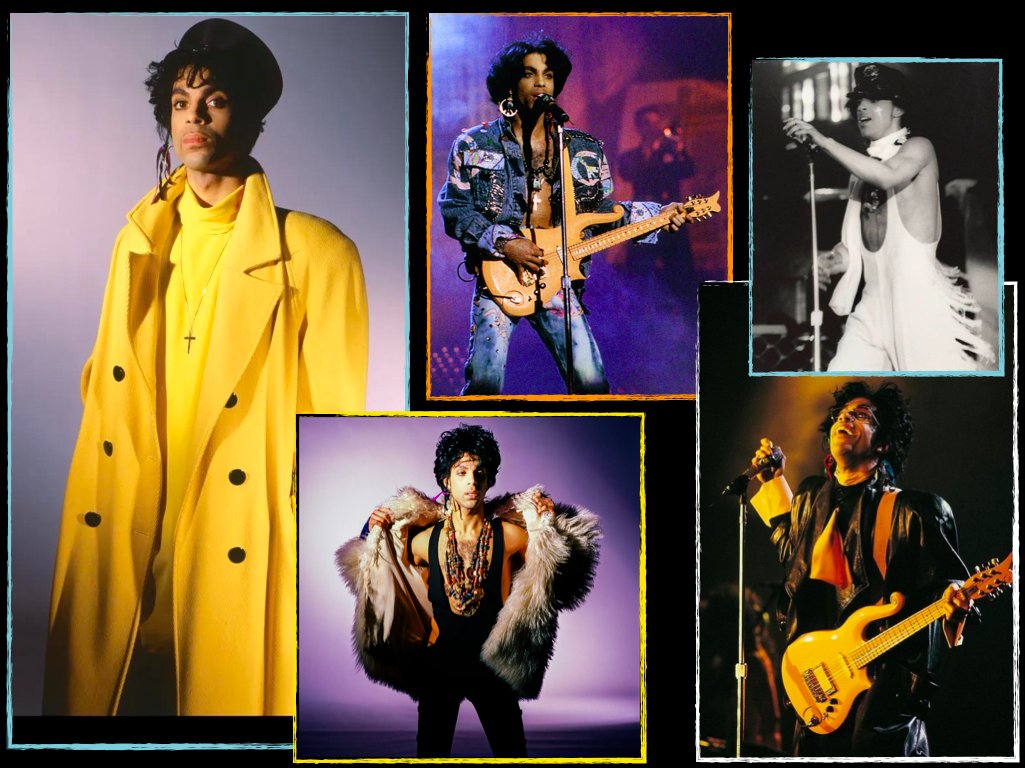 Immersing yourself in #SOTT you can see not only his sound but his style developing at this pivotal point in his career. P's style in the later half of 1980s changed rapidly, often experimental but always joyous. And indicative of what's to come.
Okay I'm wrapping this one up! As I say there's SO many different looks going on here, each with different POVs & fashion backgrounds so I am currently digging into this further with an article I'm writing. I'll be sure to post it up but please share your thoughts!
Once again thanks to @deejayumb & @EdgarKruize for inviting me along for the ride! I've been loving the epic #SOTT #PrinceThread so far & there's many incredible contributors still to come!
Next up @TrickyKid2 with IT!
Now I'm off to sew fringing to all my clothes!
Originally tweeted by Casci Ritchie (@CasciTRitchie) on 16 October 2020.